Reindeer herder shoots 2 Gazprom managers hunting in Russia's northern tribal lands – reports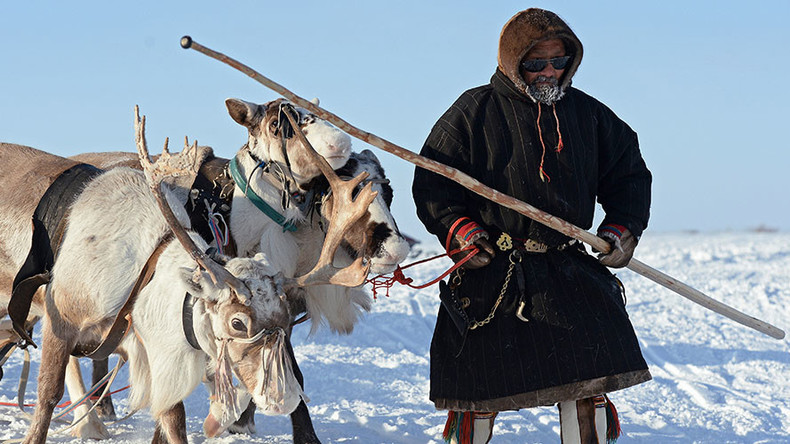 Two Russian hunters became the hunted following a confrontation with a native northern tribesman. The two Gazprom managers were shot while stalking a reindeer after they allegedly refused to leave the tribesman's lands, according to media reports.
The bodies of two men with gunshot wounds were found in the tundra some 90 kilometers from the far northern village of Samburg in Russia's Yamalo-Nenets autonomous region, western Siberia.
According to reports, the hunters who wandered off into the wilderness both worked for a subsidiary company of the energy giant Gazprom. Their bodies were discovered next to a remote hunter's hut in the wilderness. According to preliminary information, the corpses had been lying in the ground for at least 48 hours before their discovery.
According to a LifeNews source, one of the victims was 35-year-old Andrey Hodakov, the head of repair and mechanical service for Gazprom Pererabotka. The second victim is believed to be his colleague, 34-year-old Denis Svistunov, chief of the fuel department.
Reindeer herders had reportedly been accompanying the two men on their hunting trip when the confrontation and shootout took place.
"The conflict occurred with a local resident on the basis of personal animosity, after drinking alcohol," a spokesman from the investigative committee told RIA, not yet confirming the victim's reported identities.
A native of Yamalo-Nenets was arrested in connection with the crime, with his brother also reportedly present at the time of the shooting. The 22-year-old suspect claimed that Gazprom managers came to hunt on his tribal lands. LifeNews reports that the native's resolve to drive them off resulted in a shootout in which the reindeer herder shot and killed the men.
In the permanently frozen landscape of north west Siberia, nomadic tribesmen rely on a mixture of reindeer herding and hunting and gathering to survive in their settlements. Nenets, the natives of the Yamal peninsula, have always moved seasonally with their reindeer, traveling along ancient migration routes.
During the winter, when temperatures often plummet to – 50 degrees Celsius, most Nenets graze their reindeer on the moss and lichen pastures of the taiga. In the summer months they leave the larch and willow trees behind to migrate north. However the oil, gas and logging industries and the infrastructure associated with resource extraction in the area are now increasingly affecting the Nenets' migration routes.
The reindeer herder has been arrested, Russia's Investigative Committee said, as cited by RIA Novosti.