Turkey 'officially acknowledges' attack on Su-24 was a planned step - Russian MoD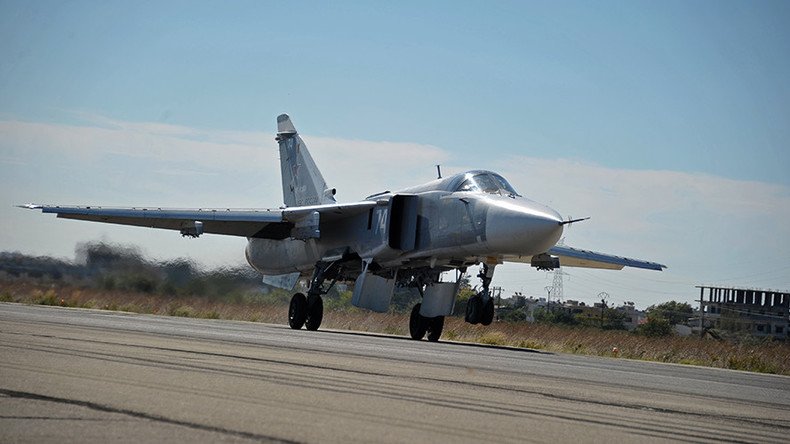 A recent statement by a Turkish official revealing detailed awareness of Russian Air Force sorties in Syria can be regarded as "official acknowledgment" that the operation to down the Su-24 was a planned step, Russia's Ministry of Defense said.
"When on November 24 the Turkish fighter jet treacherously fired a rocket at our Su-24, the Turkish General Staff was perfectly aware about when and where our two bombers would be carrying out their mission," ministry spokesman Major General Igor Konashenkov told journalists on Wednesday.
The statement recently made by Turkish Deputy Prime Minister Numan Kurtulmus in which he provides information on Russian sorties in Syria, "can be regarded as official acknowledgment by Turkey that the operation to destroy the Russian jet in Syria and kill Russian soldiers was a planned step," he said.
Ankara's awareness of Russian military operations in Syria confirms that all intelligence given to the US under the memorandum signed between the two countries and regulating the operations of their air forces in Syria was passed to the Turkish General Staff, he added.
Russia strikes 1,000+ terror targets in Syria over 6 days
Meanwhile, the Russian Air Force has conducted 302 sorties targeting 1,093 terrorist targets from December 18-23, the ministry spokesman said. The strikes were carried out in Aleppo, Idlib, Hama, Homs and Deir ez-Zor provinces.
Russian Su-34 jets destroyed two oil storage facilities and three installations for oil extraction located in Syria's eastern Deir ez-Zor region, he said. The jets also targeted a command post discovered by Russian drones in Aleppo province.
In Idlib province, a terrorist training camp was destroyed by Russian strikes, Konashenkov said.
According to the intelligence obtained on the camp, the terrorists who arrived there via Turkey also included CIS citizens. The information was provided by the Syrian opposition.
Amnesty's report full of 'cliches,' includes no evidence
Speaking about the report published on Wednesday by Amnesty International, Konashenkov said it includes no facts, only "clichés" and groundless accusations.
The NGO's report accused Russia of failing to acknowledge it carried out strikes that "killed hundreds of civilians and caused massive destruction in residential areas." The report was based on eyewitness testimonies and videos "showing the aftermath of the attacks," the human rights group said.
Amnesty concluded the attacks were "identified as suspected Russian air strikes" after analyzing the material. It also suggested the attacks "may have violated international humanitarian law and may, in some circumstances, constitute war crimes."
Konashenkov said there is nothing new in the report and the most striking thing are the words "seem" and "appear," which are used to describe the reports of the so-called "Russian attacks."
The report consists of "continuous assumptions, without any evidence," he said. Some of the Western media which published the report did so without specifying it included assumptions and instead presented them as "hard facts," Konashenkov added.
The report "confidently states that there were no military targets or militants in areas targeted by alleged Russian air strikes," he said.
He refuted claims made by Amnesty that the Russian Air Force is using cluster bombs. He noted that dozens of journalists who visited Russia's Kheimim base in Latakia and filmed the jets preparing for sorties "have never presented footage or asked questions about them because there are no such weapons at our base."
UN Secretary-General Ban Ki-moon said on Wednesday that the organization "cannot independently confirm the cases presented" in the Amnesty report, according to his deputy spokesman Farhan Haq.
You can share this story on social media: