Some 10 terrorists 'neutralized' by French forces in Mali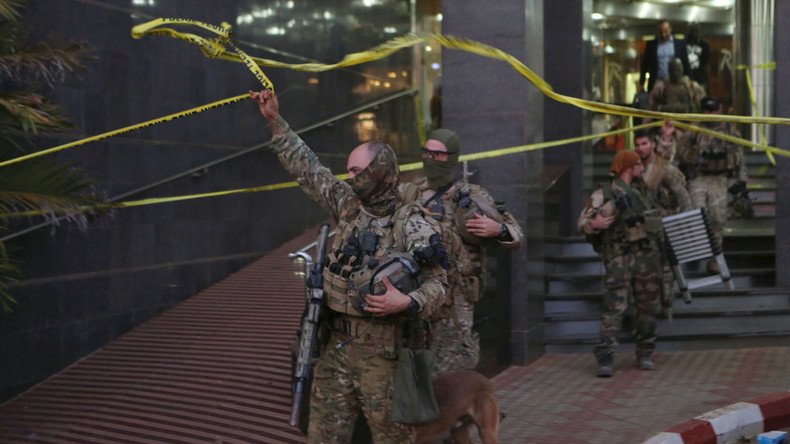 French troops engaged in an anti-terrorist operation in Mali have "neutralized" around 10 jihadist fighters of the Al-Mourabitoun Islamist group that was allegedly responsible for a violent attack on a luxury hotel in the capital last month.
The operation by the French forces took place on the night of December 19-20,the French defense ministry announced on Tuesday. The battle with the militants lasted for over four hours.
"French forces carried out an operation in the region of Menaka in Mali against an element of the terrorist group al Mourabitoun responsible for numerous attacks," the statement said. "Some 10 terrorists were neutralized. A large quantity of arms and explosives were seized."
The statement said Al-Murabitoun had been "responsible for many attacks on civilians of Mali and Niger, as well as local army forces and international forces."
The cell was one of the jihadist groups that claimed responsibility for the attack on Bamako's Radisson Blu hotel last month. Nineteen people died in the November 20 assault. The victims included six Russians, three Chinese, an American, a Belgian, a Senegalese and an Israeli.
Al-Murabitoun was formed in 2013 and is now headed by Algerian jihadist Mokhtar Belmokhtar. Al-Qaeda in the Islamic Maghreb (AQIM) said the Radisson attack was a joint operation between the two groups. In addition a Malian Islamist group, the Massina Liberation Front, also claimed responsibility for the November attack.
Some 3,000 French troops are taking part in the anti-terrorist Operation Barkhane that commenced in August last year. It follows on from Operation Serval in Mali that started in 2013, with an aim of rooting out Islamic militants in the north of Mali.
Northern Mali fell under the control of jihadist groups linked to Al-Qaeda in 2012. France sent troops to the former French colony in following United Nations Security Council Resolution 2085 and an official request by the Malian interim government for French military assistance.
In addition to the French, the African Union (AU) sanctioned an African-led International Support Mission to Mali (AFISMA) to restore peace and security in Mali.
While a peace agreement was signed between Mali's rival parties in February, terrorist groups are still perpetrating attacks threatening the shaky peace in the region.
On Monday the government of Mali decreed a national emergency which is to last until January 1, as a preventive measure against terrorist attacks.
You can share this story on social media: