Chemical tanker truck bursts, spews nauseous orange fumes near playground (VIDEO)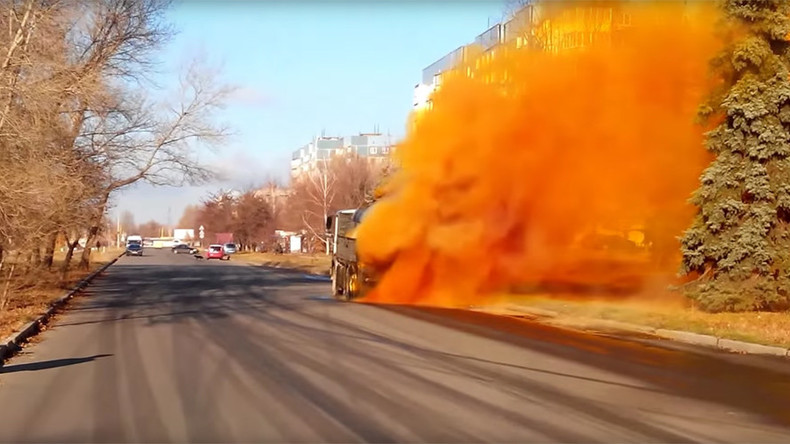 A tanker truck carrying chemicals burst open in a peaceful neighborhood in Dnepropetrovsk, Ukraine, covering the area with nauseous orange fumes. An estimated two tons of what appears to be nitric acid spilled out and evaporated.
The spectacular leak happened last week in a residential area just meters from a children's playground. A video filmed by a local resident showed the tanker, its driver nowhere to be seen, producing clouds of orange-brown fumes, which were blown towards nearby houses. The smell of the chemical fumes was reportedly felt kilometers away.
A fire brigade arrived on the scene and washed out the chemicals remaining in the tank. Local authorities assured the population the leak did not pose any danger to public health or the environment, but couldn't immediately confirm the extent of the damage. No evacuation was ordered.
There is concern that the chemical transported in the tanker was nitric acid, which can decompose into water, oxygen and nitrite dioxide at high temperatures or exposure to light. Nitrogen dioxide is a toxic gas varying in color from white to dark brown, depending on the temperature.