Man jumps into tiger enclosure at China zoo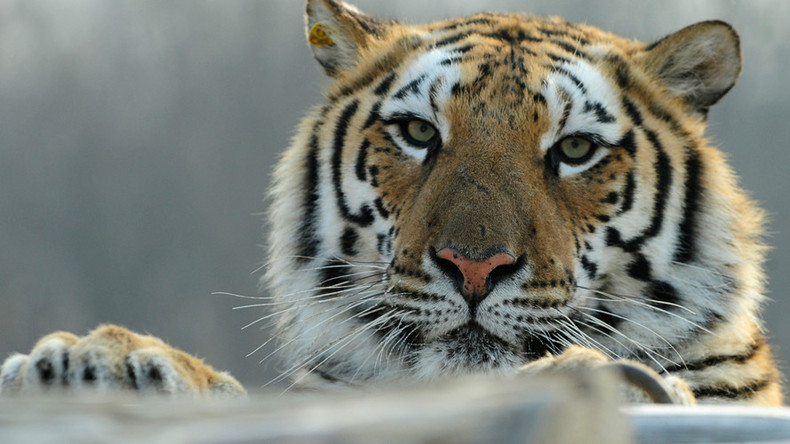 A man had to be rescued from a tiger enclosure at a zoo in central China after jumping into the feline compound to practice a "somersault."
Security footage aired on China Central Television (CCTV) first shows the man calmly sitting in a cable car at a zoo in Henan Province before deciding it would be a good time to put his gymnastic capabilities to the test.
The 40-year-old jumps from the chairlift into the tiger enclosure below in a somersaulting move that is more reminiscent of a sack of potatoes falling from a truck. The man lands in the net above the tigers, which are naturally curious about their new visitor and can be seen trying to jump up to the man.
To rescue the man, the tigers were locked away while a zoo-keeper, Wang Jianluo, climbed up to help the man off the netting. The man's reasoning for the dangerous stunt then became clear.
"When I was trying to save him on the net, he said to me that he 'hadn't done a good somersault.' After hearing that, I didn't know what to say to him," Wang told CCTV.
The thrill seeker was arrested for disturbing public order following the stunt. He reportedly told police that he was so overcome with excitement while passing above the enclosure that he had to jump off.
Rather surprisingly, he's not the first person to venture into a tiger enclosure.
In 2014, a college student climbed a twenty foot wall at India's Gwalior Zoo in search of the two tigers inside. He removed his shirt as he wandered around the pen while also doing yoga and dancing in the enclosure.
In the same year, a school student was attacked and killed by a white tiger after he fell into an enclosure at a New Delhi zoo.