Mother Teresa to become Catholic saint as Pope Francis recognizes 2nd miracle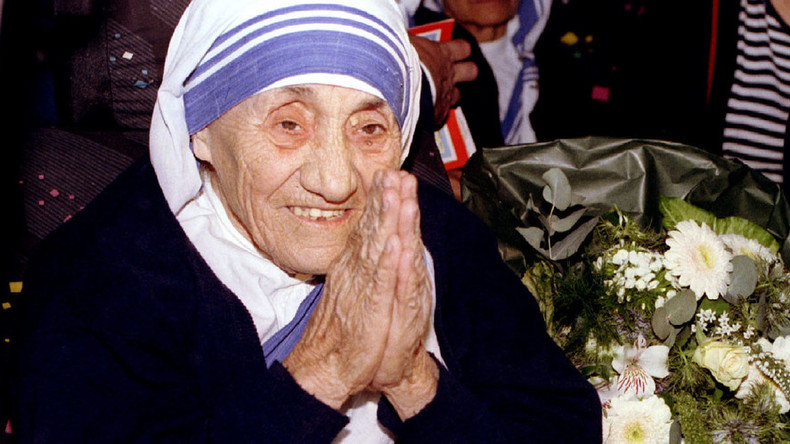 The Catholic Church has recognized a second miracle attributed to Mother Teresa, meaning that she may now be made a saint come 2017.
It takes two miracles to acquire sainthood in the Roman Catholic Church. In the first step to becoming a saint, Mother Teresa was beatified in 2003. Back then, Pope John Paul II accepted as a miracle her curing of an Indian woman suffering from an abdominal tumor.
The second miracle, which has just been recognized by Pope Francis, is from 2008 and involves the healing of a man from Brazil suffering from several brain tumors.
Mother Teresa, a Nobel Peace Prize winner, died in 1997. Known as 'the Saint of the Gutters,' she dedicated her life to helping the poorest of the poor, working in the slums of Calcutta, India.
A spokeswoman for Mother Teresa's Missionaries of Charity in Calcutta told Reuters that the nuns "were over the moon."
"We thought her whole life was a miracle. Her whole life was dedicated to the poor and there was nothing else in her mind than service. Everyone was accepted and there was no obstruction in her work."
Although it is still unclear where and when the canonization will happen, Italian media speculate that the ceremony may take place in the first week of September, during Francis' Holy Year of Mercy, to coincide with the anniversary of Mother Teresa's death.
May the Jubilee of Mercy bring us all closer to God's goodness and love!

— Pope Francis (@Pontifex) December 8, 2015
Mother Teresa was born in Macedonia as Agnes Gonxha Bojaxhiu in 1910. In 1949 she founded the Missionaries of Charity and by 1997 the order had nearly 4,000 nuns and ran hundreds of shelters, clinics, orphanages and soup kitchens around the world.
Some critics accused Mother Teresa and the order of trying to convert people to Christianity. This was denied by the Missionaries of Charity, which stated that many of the people they were helping were non-Christian and already on their deathbeds, with virtually no time to swap religions.