Cow heads hang on Xmas trees in Kiev as protesters descend on parliament (GRAPHIC VIDEO)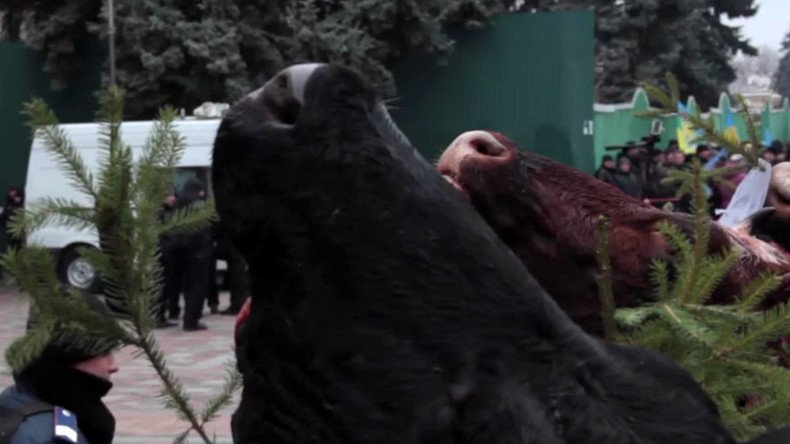 More than 1,000 of Ukraine's Rural Party supporters gathered to protest at the parliament's building in Kiev, bringing Christmas trees… decorated with the heads of dead cows.
The trees with severed heads, erected right in front of the Verkhovna Rada building, were meant to be a grim symbol of people's discontent with the current government and of the overall decline in agriculture.

Demonstrators wearing T-shirts and jackets with the Rural Party's logo took to the streets carrying placards that read: "No to famine in Ukraine," "Without rural areas, there's no state," "Yatsenyuk's cabinet must resign," and "Say no to government reforms."


Ukrainian farmers are protesting against a bill that would strip them of their tax benefits and end the special regime of value added tax (VAT) collection. Changes in legislation will lead to a $1 billion drop in foreign currency earnings, according to the party's estimates.
On Sunday, the party's activists threatened to block all major highways as part of a nationwide strike.
The country's economy is set to suffer even further next month: a decree signed by Russian President Vladimir Putin on Wednesday suspended a free trade treaty with Ukraine, starting January 1, 2016.
The measure was taken due to the Association Agreement with the EU coming into force starting next year, which will make Ukraine, which shares a 2,300-kilometer eastern border with Russia, part of the European trading bloc. This means Ukraine will no longer be part of the Commonwealth of Independent States (CIS) free trade zone and will lose any membership benefits.
You can share this story on social media: