Trump on Putin's compliment: 'Great honor'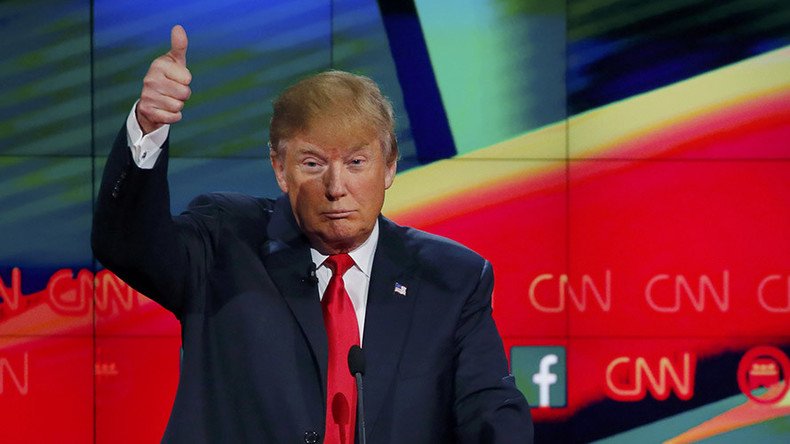 Republican presidential hopeful Donald Trump responded to Vladimir Putin's comment, in which the Russian president called Trump "the absolute front-runner," stating that it was a "great honor" to receive praise from a "highly respected" leader like Putin.
"It is always a great honor to be so nicely complimented by a man so highly respected within his own country and beyond," Trump said at a rally in Columbus, Ohio.
Putin praised Donald Trump on Thursday for wanting deeper ties with Russia and described him as the "absolute front-runner in the presidential race."
"He is a very flamboyant man, very talented, no doubt about that... He is the absolute leader of the presidential race, as we see it today. He says that he wants to move to another level of relations, to a deeper level of relations with Russia. How can we not welcome that? Of course we welcome it," Putin said during his traditional end-of-year Q&A session with journalists.
However, the Russian president noted that he was ready to work with whoever becomes the next US head of state.
While the majority of Democrat and Republican candidates have been scoring points by criticizing Russia, Trump has taken a different tone, saying he wants to work with Moscow if elected.
"I have always felt that Russia and the United States should be able to work well with each other towards defeating terrorism and restoring world peace, not to mention trade and all of the other benefits derived from mutual respect," he reiterated on Thursday.
Trump has said in the past that he sees himself getting along with Putin. "I would get along with him," Trump said in September. "I would get along with a lot of the world leaders that this country is not getting along with."
Trump has also expressed strong support for Russia's bombing campaign against terrorist groups in Syria, which started on September 30 following a formal request from Damascus.
"I like that Putin is bombing the hell out of ISIS," Trump said in October. "I'll tell you why. Putin has to get rid of ISIS 'cause Putin does not want ISIS coming into Russia," he added.
You can share this story on social media: