UN Security Council unanimously adopts resolution targeting ISIS finances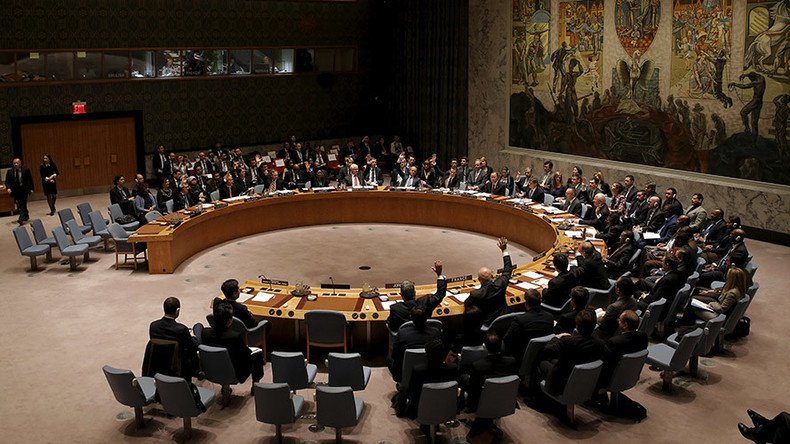 The UN Security Council has passed a resolution strengthening legal measures against those doing business with terrorist groups. It targets mainly Islamic State militants (IS, formerly ISIS/ISIL).
The resolution is the result of a joint effort by Russia and the US, which are both leading anti-IS campaigns in Syria.
It stems from a UNSC action taken in February against illegal trafficking of antiquities from Syria, which threatened sanctions on anyone buying oil from IS or the Al-Qaeda-linked Al-Nusra Front and urged that kidnap ransoms not be paid.
Before the Council meeting on Thursday, Russian UN envoy Vitaly Churkin told reporters that one of the main objectives of the new resolution is to "circle IS as a separate, most vital terrorist threat."
"Formerly… the Security Council's documents referred to IS as one of Al Qaeda's divisions," he said. "Now the document offers expanded criteria of listing, which makes it possible to impose limitations on any individuals or corporates smudged by relations with IS."
The key objective of the new resolution, according to Churkin, is the "enforcement of a framework to reveal and disrupt illegal financing of IS and groups related to it by means of trade in oil, artifacts, and other illegal sources."
"The countries did have respective obligations well before this, but, unfortunately, those obligations have not been observed by everyone and constantly," he said.
Under the revised document, UN monitoring and sanction mechanisms "will be focused clearly on eradication of those developments."
Some of the sanctions the UN could impose include asset freezes, travel bans, and arms embargos.
The resolution also asks countries to report on what they have accomplished in disrupting IS' financing within the next 120 days. It also calls on UN Secretary-General Ban Ki-moon to write up a "strategic-level report" analyzing IS' sources of revenue within 45 days.
"We are counting on it to be a very concrete and honest report," Churkin told RT.
Churkin also mentioned Turkey's involvement in the illegal oil trade with IS, stressing that Turkish individuals as well as companies could be sanctioned under the resolution. He added that countries could even be sanctioned "if it turned out that [one of them] has not implemented enough effective measures against the fight of financial terrorism."
According to the UN envoy, Russia was the only member that could provide proof of concrete schemes used by other countries to engage in illegal oil trade with Islamic State or how IS able to use the revenue from those transactions to purchase weapons from other countries, particularly from a few in Eastern Europe.
The document, which is based on UN Charter Article VII and takes effect immediately, calls for members to "move vigorously and decisively to cut the flow of funds" to IS.
It says that governments must prevent its citizens from funding or providing services to "terrorist organizations or individual terrorists for any purpose, including but not limited to recruitment, training, or travel, even in the absence of a link to a specific terrorist act."
IS is estimated to be one of the wealthiest terrorist groups in the world. Some data compiled in an analysis by IHS estimates that the group's monthly revenue amounts to some $80 million.
Major breakthrough for US-Russia relations?
The joint effort by Russia and the US marks what appears to be a major breakthrough in thawing the icy relations between the two world powers.
On this rare occasion, the countries were able to work together and discuss the issue in the same vein: "Denying [IS] access to the international financial system is a key element of any comprehensive strategy to degrade and ultimately destroy it," US ambassador to the UN, Samantha Power, said in a statement.
US Treasury Secretary Jacob Lew also talked about the need for cooperation. "Cutting [IS] off from the international financial system and disrupting its financing are critical to effectively combating this violent terrorist group," he said. "A united international front is vital to achieve that goal."
READ MORE: John Kerry to meet with Putin, Lavrov to discuss Syria & Ukraine
The UNSC resolution comes just days after US Secretary of State John Kerry's Tuesday visit to Moscow. Following talks, Kerry and Russian Foreign Minister Sergey Lavrov said that Russia and the US have agreed on a number of "critical" issues, particularly with regard to Syria.
"The US stands ready to work with Russia," Kerry told journalists.
"We see Syria fundamentally very similarly, we want the same outcomes, we see the same dangers, we understand the same challenges," Kerry said. "Russia and the United States agree that you can't defeat Daesh [Arabic acronym/derogatory name for IS] without also de-escalating the fight in Syria."
On Thursday, Putin also stressed that differences between Russia and the US on Syria have narrowed. The Russian plan for solving the conflict "strangely as it may seem, coincides with the US vision in its key aspects: joint work on a constitution, creation of instruments of control over future early elections, holding the vote and recognizing its results on the basis of that political process," Putin said during his traditional end-of-year Q&A session with journalists on Thursday.
You can share this story on social media: