Ex-Ukrainian PM Tymoshenko is 'scared' of 'inadequate' PM Yatsenyuk, wants him jailed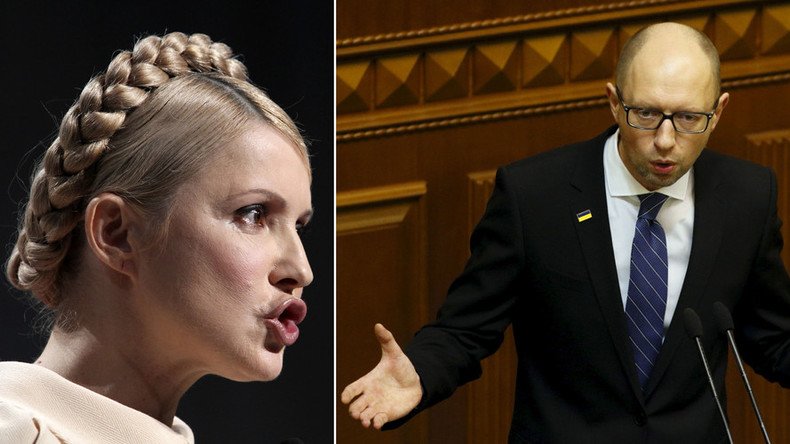 Ex-Ukrainian Prime Minister Yulia Tymoshenko says she's "scared" of current PM Arseny Yatsenyuk, as he produces "the impression" of being "a bit inadequate" for the post.
Tymoshenko, currently leader of the 'Fatherland' party in the parliament, was talking with local channel '112 Ukraine' when she quite pointedly said what she thinks of the sitting PM.
"Honestly, the prime minister [Arseny Yatsenyuk] scares me. I have this impression that this person is a bit inadequate. I have the figures. Can you imagine: he had planned for inflation in 2015 to reach 26.7 percent. In reality, he got 45.8 percent," Tymoshenko said.
That means the budget is artificially bloated by inflation and the revenues aren't revenues in fact, but losses, the ex-Ukrainian PM added.
"They aren't achieved thanks to the economic growth, but due to inflation, which turned every citizen into a beggar and caused prices to skyrocket in such a way that people can't buy things," she said.
"Because the way the country is being destroyed now [is unprecedented]". The premier should face consequences for his actions, and "not administrative, but criminal," Tymoshenko emphasized.
On Wednesday, Tymoshenko stated at a conference that the 2016 budget "will ruin the Ukrainian economy completely, destroying every branch and sector," as quoted by TASS.
"Ukrainians are being threatened with not just poverty, but absolute poverty, and the 2016 draft budget is going to codify this status," she added.
The tirade comes just days after Yatsenyuk's salary was increased by 25 percent, according to an act by the Ukrainian government, while the national currency, the hryvnya, has devalued by almost 200 percent since December 2013.
READ MORE: Rada rumble: Ukraine parliament fights it out as MP attempts to drag PM Yatsenyuk away (VIDEO)
Tymoshenko herself spent over two years in prison between 2011 and 2014, and was released after the coup that saw President Viktor Yanukovich toppled. The politician had been probed over 10 criminal acts, including misuse of public finances, abuse of office over a natural gas import contract and intention to murder.
You can share this story on social media: