Dutch protesters riot over plans to build refugee center in small town of Geldermalsen (VIDEO)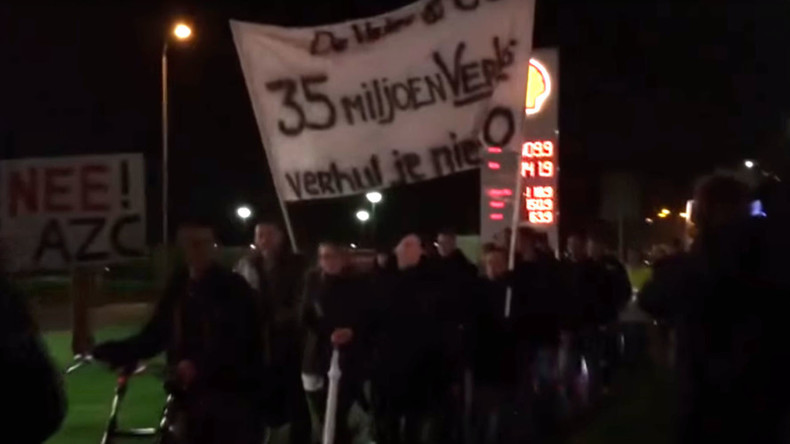 A meeting of a Dutch town's council to discuss plans to build a center to house 1,500 asylum seekers in Geldermalsen turned into a battlefield after crowds of rioters tried to storm the building, throwing fireworks and stones at police, chanting anti-immigrant slogans.
Police first tried to disperse rioters with batons but failed. The town hall was filled with smoke after demonstrators threw fireworks. Crowds of protesters broke through the gates and banged on the windows of the council building. The meeting had to be cut short and evacuated. Police had to fire warning shots.
"It was almost war," local police spokesman Paul Koetsier said, regional Dutch broadcaster Omroep Gelderland reported.
Over 2,000 people reportedly joined the violent protest in Geldermalsen, a Dutch town of 27,000, in what has been the biggest display of anti-immigrant feeling in the Netherlands since the attack on a Syrian refugee center in October.
Violent protests erupted Wednesday night with youths tearing down fences, and throwing beer bottles, fireworks and stones at police, chanting slogans against the arrival of asylum seekers, Omroep Gelderland reported.
Two policemen and several protesters received minor injuries.
At least 14 people have been arrested. Police have launched a major investigation into the riot.
Deputy Justice Minister Klaas Dijkhoff, in charge of immigration and asylum policy, has called the incident in the western Netherlands' town "un-Dutch."
Local politicians described the riot as "unacceptable."
"Outrageous and totally unacceptable what is happening in Geldermalsen. Hope the police quickly arrest the culprits," Member of Parliament Sjoerd Sjoerdsma wrote on Twitter.
Schandalig en volstrekt onacceptabel wat er nu in Geldermalsen gebeurt. Hoop dat de politie de daders snel pakt.

— Sjoerd W. Sjoerdsma (@swsjoerdsma) 16 декабря 2015
Europe currently faces the biggest refugee crisis since World War II, with almost 1 million new migrants and refugees being registered this year, more than twice as many as last year, according to UN statistics. The Netherlands, a country of 17 million people, is expected to take in about 60,000 asylum seekers by the end of the year.
Following the Paris attacks, in which Islamic State (IS, formerly ISIS/ISIL) gunmen and suicide bombers killed 130 people and injured 352 last month, there has been a surge in support for right-wing movements in France, Germany and UK skyrocketed, with anti-immigrant sentiment mounting in Europe.
READ MORE: 'Islamic invasion'-touting, Koran-Mein Kampf-equating MP Wilders scoops top Dutch Politician gong
Earlier this week, right-wing populist Geert Wilders was named Dutch Politician of the Year for the third time. The coveted award is nominated annually by EenVandaag, a news program on public television, following a poll. Last month the anti-immigration and anti-Islam MP, known for his hardline views, said that the best way to deal with Europe's growing refugee crisis is to close national borders and stop what Wilders called an "Islamic invasion."
"The only way to deal with it [the refugee crisis] is to regain our national sovereignty and close our national borders," Wilders told AFP.

Late last month, unidentified perpetrators left some 14 pig heads at the entrance of a Dutch refugee center in Eschmarkerveld, near the city of Enschede. Local media suggested that such a graphic message was not only meant for the migrants, but also for the government, which decided to set up the refugee center in September. When the decision was made the residents of Eschmarkerveld objected to the opening of the refugee camp, arguing they would feel "unsafe." The municipality went ahead with the planned center, despite the outcry.
You can share this story on social media: