Kiev court bans Communist Party in Ukraine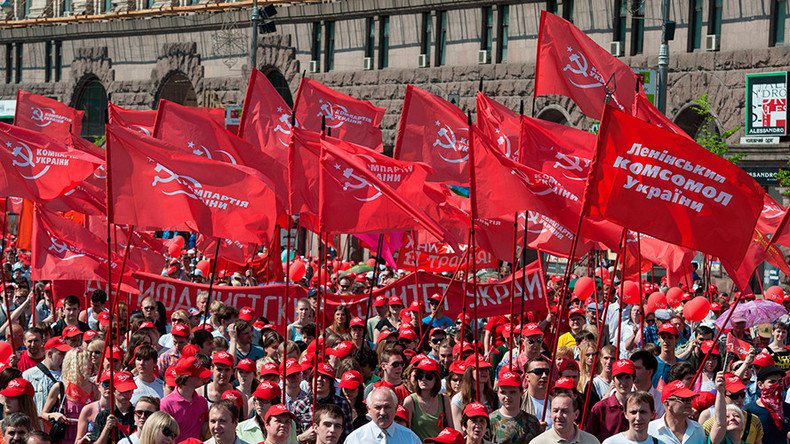 The Communist Party of Ukraine is now out of politics after a Kiev court ruled to ban its activities.
On Wednesday, the Kiev District Administrative Court ruled for the plaintiff – the Ukranian Ministry of Justice – that had filed a lawsuit in 2014 requesting a ban on all activities of the Communist party in Ukraine. "The court has fully met the claim," the court stated.
The lawsuit accused the Communist party of actions aimed at "amending the constitutional order by force, violation of the sovereignty and territorial integrity of Ukraine, propaganda of war, violence, incitement of ethnic hatred, encroachment on human rights and freedoms," according to the Unian news agency. The ministry also stated that representatives of the Communist party "systematically call for the formation of military groups."
The case has been surrounded by controversy, as in February police raided the office of Judge Valery Kuzmenko, who was presiding over the suit, but withdrew from the case following the seizure of some materials.
Following the scandal, other judges in the Kiev District Administrative Court also filed applications requesting to be excused from hearing the case, according to Kuzmenko.
In July, the Ukrainian Justice Minister, Pavel Petrenko, signed a decree banning all communist parties from participating in the elections of the country. This came in the wake of the de-communization law signed by Ukrainian President Petro Poroshenko on May 15.
The Communist Party has been quite vocal in speaking out against Ukraine's new authorities, which came to power after a coup in February 2014.
The party has also slammed Kiev's military campaign in the southeast of the country, branding it a war against its own people. Communist leader Pyotr Simonenko has openly accused the Ukrainian authorities of the "slaughter of civilians and mass murder."
In April, Ukraine's Parliament passed a law which equated communism and Nazism, banning both regimes and all their symbols. The MPs passed another law at the same time officially recognizing Ukrainian nationalists as "freedom fighters," including members of the Organization of Ukrainian Nationalists (OUN) and Ukrainian Insurgent Army (UPA) who had collaborated with Nazis in the 20th century.
You can share this story on social media: