Protesters push Facebook to revise 'real name' policy
Published time: 16 Dec, 2015 21:04
Edited time: 17 Dec, 2015 11:51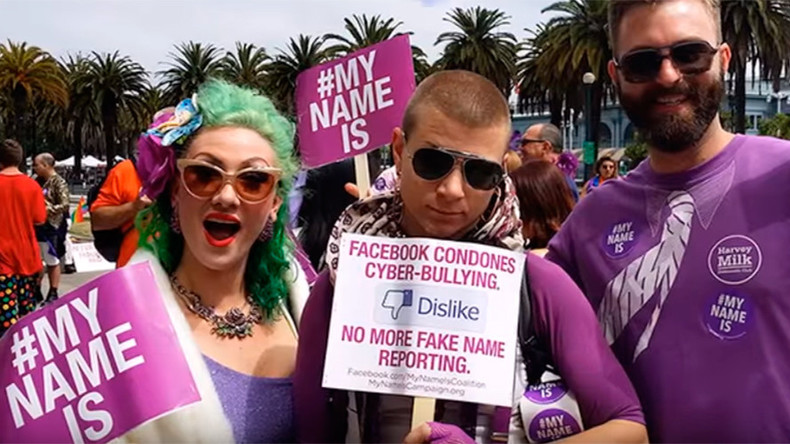 Facebook will take a small step back from its current hardline "real name" policy after being flooded with pleas and protests from a variety of vulnerable groups.
The social media company is preparing to test new tools that will allow people to share any special circumstances they feel prevent them from using their actual name.
It should help vulnerable people such as those who have suffered domestic abuse or in cases where a user's sexuality may put them at risk.
The company is standing firm on their "real name" policy in all standard situations, however.
They say forcing people to use their real names makes them more accountable for what they say online.
A point not all online users agree on.
@Erasuterism twitter is the new facebook, soon enough we'll have to use real names and profile images

— TypeArmsStatesCombo (@DeadlyRave) December 10, 2015
READ MORE:Google, Facebook, Twitter will delete online hate speech at pressure from Germany
"The stories of mass impersonation, trolling, domestic abuse, and higher rates of bullying and intolerance are oftentimes the result of people hiding behind fake names, and it's both terrifying and sad," the site said.
"Our ability to successfully protect against them with this policy has borne out the reality that this policy, on balance, and when applied carefully, is a very powerful force for good."
Not everyone is buying Facebook's story, however.
The company is also adding a new tool for reporting fake names, requiring anyone who reports another user to provide more context with their complaint.
Last year, prominent drag queens in San Francisco had their Facebook accounts deleted for violating the real name policy.
The company acknowledged it had been a mistake to delete the accounts after being faced with a protest outside their headquarters.
A number of digital rights groups have also come together to form the Nameless Coalition, which calls on Facebook to drop the policy.
The new measures don't adopt all of the group's suggestions, but representatives from both sides met at a public event in San Francisco.