At least 13 killed, thousands flee as typhoon Melor strikes Philippines (VIDEOS)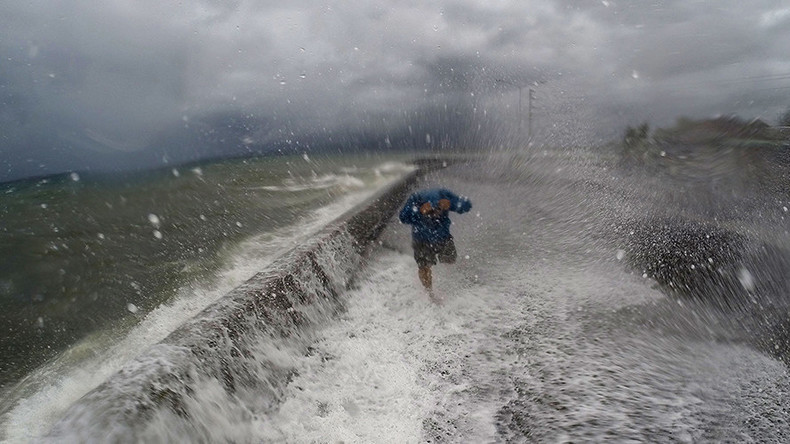 Typhoon Melor has hit the Philippines, killing at least thirteen people and forcing thousands to flee. The disaster also caused significant damage in several of the country's provinces.
The new death toll was reported by The Standard on Wednesday. The number of victims previously stood at four.
The typhoon struck the eastern Philippines on Monday and started to move out into the South China Sea late on Tuesday. Gust velocities reached 170 kilometers per hour.
All of the deaths resulting from the storm occurred in the Northern Samar province, where two people drowned in floods, one died because of hypothermia, and another person was killed by flying debris.
Thousands of people were evacuated from the disaster zone, with authorities ordering the evacuation of about 720,000 people in the Bicol region alone. Thousands of passengers have been stranded in ports and airports, as dozens of flights were cancelled and hundreds of ships were forced to stay in port.
The typhoon also caused severe damage in several provinces where most houses built of light materials were unroofed or destroyed. Electricity supplies were also disrupted, and rice and corn crops may suffer heavy losses, Philippian National Disaster Risk Reduction and Management Council reports.
The disaster hit the country when it was preparing for Christmas, so many of decorations that had already been put up were destroyed
"It will be a very sad Christmas and a dark one because we have no power. But the important thing is everyone around me is still moving," rice farmer Noemi Pesigan, 54, told AFP.
The Philippines is one of the most typhoon-prone countries on the planet. The Philippines have already endured devastating Typhoon Koppu this year, which killed about 50 people. Another deadly tropical storm, Haiyan, hit the Philippines in November of 2013, killing about 6,000 and causing massive damage.