New Zealanders choose new flag design ditching Union Jack for silver fern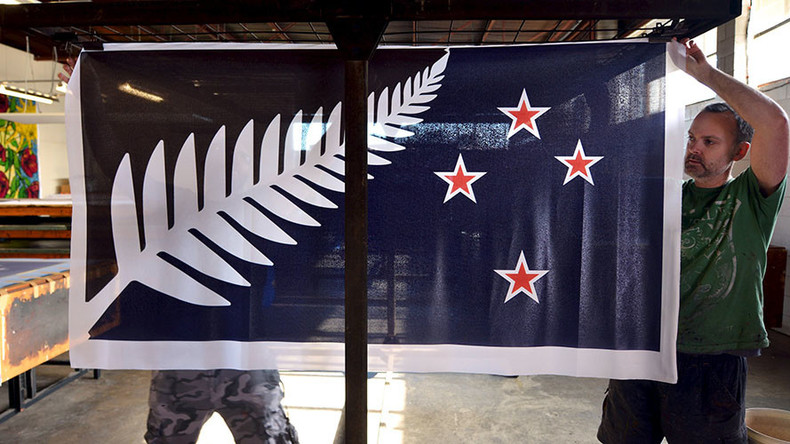 New Zealand's flag could soon be getting a makeover, ditching the British Union Jack for a silver fern. The potential new design, chosen by Kiwis in a referendum, will go up against the current flag in a March vote.
The referendum comes as many in the country say the existing flag is too similar to Australia's, and references a colonial past that should be left behind. The vote received a turnout of 49 percent, according to New Zealand's election commission.
The winning design, created by architect Kyle Lockwood, features New Zealand's iconic silver fern, which has become a symbol worn by many of the nation's sports teams – including the All Blacks rugby team.
The flag, which has a black and blue background, won by a narrow margin against Lockwood's other submission, which featured an identical design with a red and darker blue background. Even Lockwood admitted that he struggled to decide which flag was the best design.
"I agonized over the two on my voting form," he said, as quoted by the Independent. "For a couple of weeks, I'd walk past it and think `Which one?' I like them both equally."
Lockwood's winning creation beat out more than 10,000 potential new designs submitted by residents. Some of those designs were more bizarre than others, with one flag featuring the country's iconic kiwi bird shooting a green laser beam from its eye. Another had a sheep alongside a cone of ice cream.
A total of six contenders – including both of Lockwood's designs – were part of the referendum.
Many New Zealanders are eager to see the nation's flag receive an update. Prime Minister John Key has been at the forefront of that movement, even posting an online video in support of a new flag.
Praising the silver fern, Key said during an interview on Newstalk ZB that "the national symbol of New Zealand – it's what we're known by."
"The reason why I support the change of a flag is simply because we will wear it, use it and promote it more. It's therefore all about national pride and recognition of our country and showing the world how great we think New Zealand is...and I don't think we do that very much with our current flag," he said.
However, many are critical of Key's campaign to change the nation's flag, accusing him of distracting from other issues. Others have slammed the estimated cost to voters of the referendums – a whopping US$17.5 million.
Some have argued that New Zealanders have fought and died under the existing banner, urging that it remain unchanged.
"When they have made the ultimate sacrifice for their country, our flag has been draped over their casket at military funerals," veterans' group the Returned and Services' Association (RSA) wrote on its website.
Despite Key's enthusiasm for a new flag, opinion polls taken before the result indicated that a majority favored keeping the current flag.
Formally adopted in 1902, the current flag has the British Union Jack in the upper-left corner with the Southern Cross on a dark blue background. Once part of the British Empire, New Zealand is now independent, although Queen Elizabeth II remains head of state.
The silver fern flag will go up against the current banner in a March referendum.
You can share this story on social media: