Cheeky rider escapes ticket inspector through bus window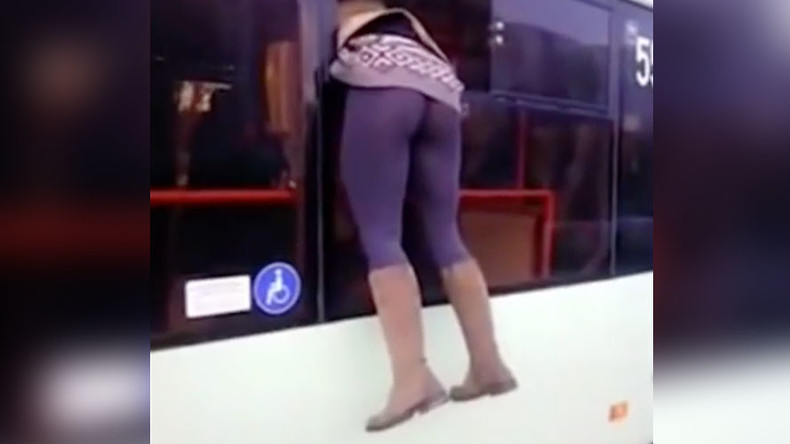 One woman's daring escape from a bus employee has spread like wildfire across the internet after she was caught on camera clambering out of the window.
Based on Belarussian news reports, it is believed that instead of coughing up a fine for fare-dodging, the 32-year-old unidentified 'bezbiletnitsa' (translation: female with no ticket) decided to make a great escape and lower herself out of the side window.
But like Winnie the Pooh in a pot of honey, she got stuck halfway, showing the world her stylish purple tights and brown boots.
A video posted earlier this month of the alleged ticket dodger's attempt to flee has gained thousands of views.
It shows her almost making a clean escape until a bus employee allegedly attempts to detain her illegally by grabbing her handbag and a tug of war ensues.
Reportedly filmed in Minsk, Belarus, the bizarre incident eventually comes to an end after a flurry of swear words are exchanged and the woman finally squeezes her way to freedom.
According to the Daily Mail, a witness to the 'cheeky escape' said: "She's left there hanging in limbo and the more she wriggles, the more her dress rides up. Eventually you can see everything she's got."
READ MORE: Chinese woman misses stop, jumps out of moving bus window (VIDEO)

The transport company has reportedly contacted police about the incident, while the presumably red-faced rider is claiming assault and false imprisonment.
Police will probably know how to find her, since she left her handbag behind as she walked away from the bus after finally landing on her feet.