Kosovo opposition uses tear gas in parliament to protest deals with Serbia, Montenegro (VIDEO)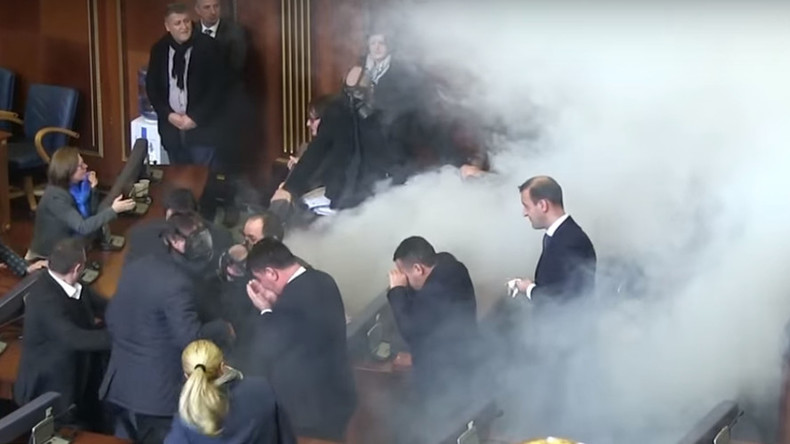 Tear gas has been released in the Kosovan parliament by opposition MPs seeking to disrupt the session and force the government to revoke agreements with Serbia and Montenegro.
The opposition lawmakers set off two tear gas canisters during a morning session of parliament on Monday, forcing other MPs to flee the hall as they put on gas masks and stood by demonstratively as the smoke filled the room.
The second parliamentary session taking place in another chamber was also disrupted by opposition MPs in a similar fashion.
The politicians were protesting Kosovo's Brussels-brokered agreement with Serbia, which was reached in August, as well as the border demarcation deal with Montenegro.
Meanwhile, a number of opposition supporters staged a protest outside the parliament building, throwing stones and paint. Police dispersed some 150 people, AP reports.
Over the last three months, the opposition in Kosovo has used various violent methods – including pepper spray, whistles and water bottles – to force the government to tear up the agreements.
Glauk Konjufca, an MP representing the Self-Determination Movement, told AP that the actions were aimed at making "the government understand that the Aug. 25 deals ... cannot pass in Kosovo and that the opposition is determined to use all the methods so these two deals damaging Kosovo's statehood are not applied."
The opposition has also demanded a referendum or fresh elections if the government refuses to fulfill their demands. So far, they have refrained from negotiating with the government and the president.
The August agreement between Serbia and Kosovo envisages the creation of an association of municipalities with a Serbian majority in Kosovo to represent Serbian minority interests, according to the Balkan Insight.
A province of Serbia, Kosovo has been under effective NATO-led peacekeeping force control since 1999, after the alliance aided an ethnic Albanian rebellion against the Yugoslav federation that included Serbia and Montenegro. The province's provisional government declared independence in 2008, which has since been recognized mostly by NATO countries and their allies. Russia does not recognize Kosovo as an independent state.
While the Serbian government has not officially recognized the renegade province, Belgrade has signed several "normalization" agreements with the Pristina authorities in recent years, under pressure from the EU and NATO.