Revolution Ready: Designers invent protest toolkit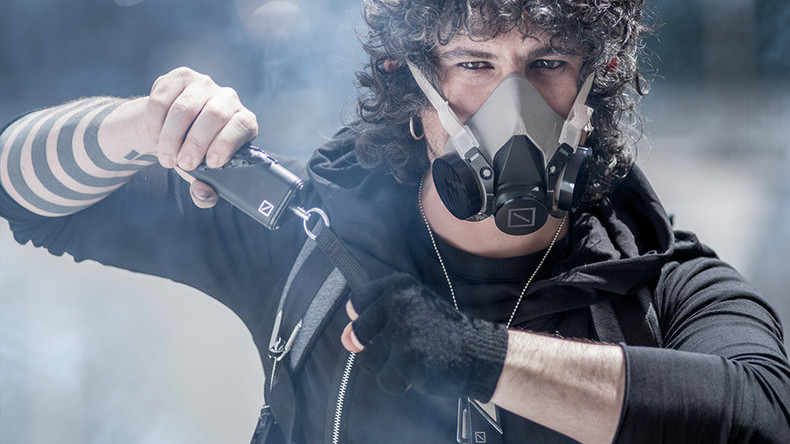 Protesters involved in civil disobedience have a new toolkit in their fight against the growing police and surveillance state.
Pedro Oliveira and Xuedi Chen created Backslash which narrows the gap between the amount of technology used by authorities and those available to activists.
"The gap is only getting wider," the pair said in a statement on their project website.
The devices were inspired by friends of the designers who were at the Gezi Park uprising in Istanbul in 2013 and Hong Kong's Umbrella Revolution in 2014.
Authorities were able to show dominance over protesters by disabling the internet in the area, cutting off the protesters' main form of communication with each other and news agencies covering events.
The revolution-ready toolkit includes a portable router to allow communication in the area if internet is disabled and a bandana with a coded message for protesters who wish to hide their identity.
"We want to diversify our design methodology to encompass different scenarios worldwide," read their online statement.
A panic button developed by Backslash is aimed at reducing police brutality. It comes in response to a tactic known as bottlenecking when police divert protesters using blockades to one specific area where brutality can be carried out.
Backslash's panic button can be worn as a bracelet and when pressed will alert anyone else wearing a similar bracelet within 15 blocks that they are entering an unsafe area.
The device is network independent, allowing it to operate in third world countries where the infrastructure does not support smartphone access.
The kit also features a jammer to block outside communications collecting information from a user's phone. And this is where the toolkit enters a gray legal area in some countries.
Technically, using the jammer in the US could lead to up to ten years in prison, although the designers made the jammer "almost legal" by keeping its signal close to the wearer's body.
The designers don't plan to release the kits themselves, but they will lead workshops with community groups build their own.
"We hope that none of these ever need to be used… Instead we want to help encourage local communities to join the conversation and engineer solutions as needed," they said in their statement.
Backslash may be the first all-in-one toolkit, but some single-purpose tools and techniques have been launched in the recent past.
Adam Harvey developed make-up that can trick facial recognition software.
Combined with a emo-like hair cut, CVDazzle helps hide your biometric information by obscuring your face with asymmetry.
Scientists from Tokyo's National Institute of Informatics developed a prototype privacy visor with built in near-infrared LEDs, which are invisible to the human eye, but creates noise for cameras as it obscures the wearer's face without affecting the person themselves.
Another privacy conscious option from CVDazzle's Adam Harvey is anti-drone clothing which prevents thermal scans from drones by using metallic materials which masks thermal recognition.