IDF soldiers mock & disrupt Palestinian reporter blasting 'Israel's racist policy' (VIDEO)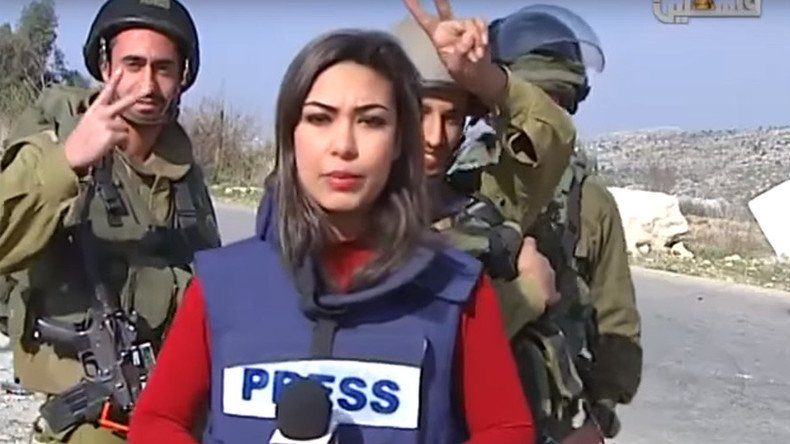 Embarrassing footage has emerged showing three IDF soldiers disrupting a Palestinian journalist reporting on "Israel's racist policy of collective punishment." Calling "Allahu Akbar," they make hand gestures behind the woman's back calling her a liar.
The soldiers earned some criticism from the army for their unseemly behavior, with the IDF Spokesperson's Unit admitting the video "depicts combat soldiers behaving in a way unbecoming of IDF soldiers."
"In light of this incident, the rules of conduct regarding media outlets have been reviewed. The IDF will continue to allow freedom of the press in the West Bank," he said, according to the Times of Israel.

According to local media reports, the incident took place next to the West Bank village of Abud, close to Ramallah.
It's not the first time IDF soldiers have come under fire for mistreating media crews in the West Bank. In September, two AFP journalists covering clashes between Palestinians and IDF, sparked by the death of a Palestinian killed by the Israeli Army, were assaulted by Israeli soldiers. The incident was filmed and posted online. Israeli soldiers reportedly pointed their weapons at the Italian video journalist Andrea Bernardi and his colleague, Palestinian photographer Abbas Momani. The assault came despite the fact that both journalists were wearing body armor, clearly marked "Press." According to AFP, Bernardi was thrown to the ground, jabbed in the side with a weapon, and held by a soldier until he produced his press card. The journalist suffered bruised ribs and an eye injury. The soldiers reportedly smashed a video camera, confiscated another one and a mobile phone. Israeli Army spokesman Colonel Peter Lerner subsequently told the agency that "disciplinary measures will be taken."


A female TV reporter's face was burned by a stun grenade during a protest in East Jerusalem in early October. Hana Mahameed, an Arab-Israeli reporter for Lebanon-based Al-Mayadeen TV, was reporting on clashes between Israeli police and Palestinian demonstrators when the grenade, fired by the Israeli authorities, exploded near her head.
READ MORE:RT crew attacked by Israeli police in Jerusalem (VIDEO)
RT's Arabic news channel crew came under a tear gas attack during a live broadcast covering anti-Israeli protests in Ramallah in late October. The tear gas was fired at protesters and media crews reporting from the scene by the Israeli military.
An RT Arabic TV crew had previously been attacked by Israeli police while covering the Jerusalem Day march in the Old City in mid-May. Although the journalists all had documents permitting them to cover the event, the police prevented them from going live.
You can share this story on social media: