When animal selfies go right (and wrong)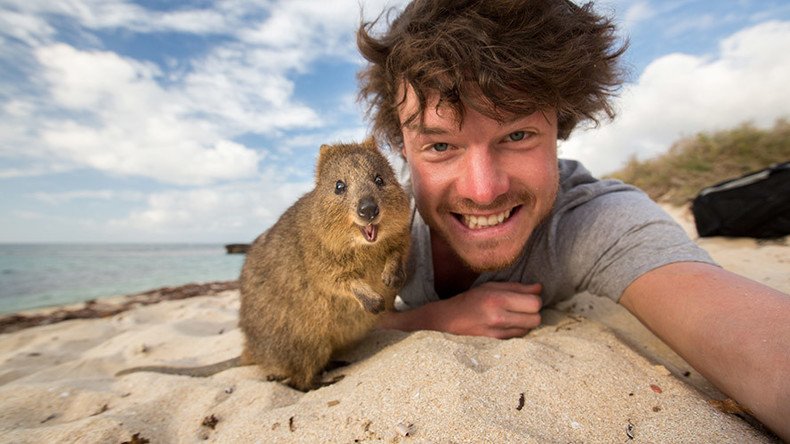 Taking pictures with animals is notoriously difficult. They're unpredictable, hard to control and sometimes they bite.
Allan Dixon has managed to perfect the art, getting a range of animals to pose and even smile in seemingly relaxed easy-to-capture selfies. Is he a modern day Doctor Dolittle or is there a skill to achieving these images?
Speaking to RT, the Irish photographer who spends his time searching the globe in search of selfies said that patience is key and that animals don't respond well to demands, the language barrier is usually an issue. "You have to be still, lie down, gain their trust in their environment for a while. Most of the time they're more scared of you than you are of them."
One of his favorite animals to pose with is the quokka, a marsupial found on several islands off the coast of Western Australia. The photogenic animals have perfected smiling for the camera.
Dixon advises anyone wishing to get that perfect pic to turn off their flash and any sounds on the camera so as not to scare them. Make sure to enter their surroundings with your camera in hand so they think it's part of you and be ready to click as many times as possible.
"Once you're in their presence for some time, they'll usually come and check you out. There's a fine line between curiosity and survival. The main aim is to make them know that they are safe being around you. Get up close as you can, but slowly."
Seals, sheep, kangaroos and quokkas are all well and good, but Dixon says his dream is to take a selfie with a lion, but admits it might be the last selfie he ever takes. Less lions more lambs may be safer!
It doesn't always go right, sometimes the animals just won't look at the camera and then sometimes another animal decides to photobomb the special moment.
You can share this story on social media: