Firefighting robot to help Aussies battle summer bushfires (VIDEO)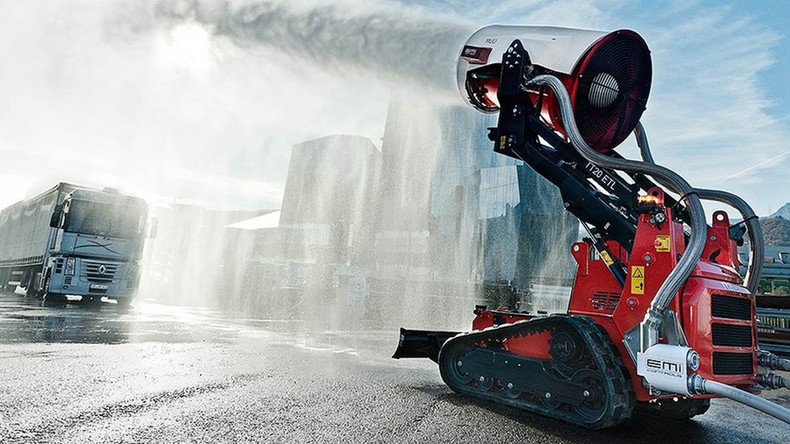 Australian firefighters now have a remotely controlled firefighting robot, which douses flames with a giant arm-mounted turbine that can disperse water in the form of a mist.
The machine is the first of its kind in Australia and cost the Fire & Rescue department of New South Wales (FRNSW) just over 300,000 Australian dollars, state minister David Elliott told the media.
"The NSW Government has invested $310,000 [US$ 215,000] in this technology and it is money well spent in ensuring the safety of our firefighters and the people of NSW."
The robot is called TAF20 and is essentially a turbine mounted on a small tracked vehicle. Water is fed through the turbine, which is then turned into a mist or foam and ejected by a powerful fan towards the fire. It can shoot jets of water if needed as well. The fan can blast spray up to a distance of 60 meters and water up to 90 meters, Elliott said.
The turbine is mounted on a robotic arm that can lift and tilt it. The truck is also equipped with a bulldozer blade to clear debris from its path.
"We saw how effective the TAF 20 was last week at a Botany factory fire in Sydney, and it will be of great use for our firefighters in battling other large and complex fires, including bushfires," the minister said.
The robot is expected to go places too dangerous for humans to venture into. It can be remotely controlled from up to 500 meters and has a thermal camera to detect heat sources.
FRNSW's new vehicle would be based in Alexandria and deployed by road or air, the department's Commissioner Greg Mullins said.
The TAF20 is a joint development by German firefighting equipment producer Magirus and Italian firm EmiControl, a subsidiary of TechnoAlpin, a manufacturer of snowmaking machines.