Boiling point: 100 detained at Greek camp after migrant group attempts to blackmail others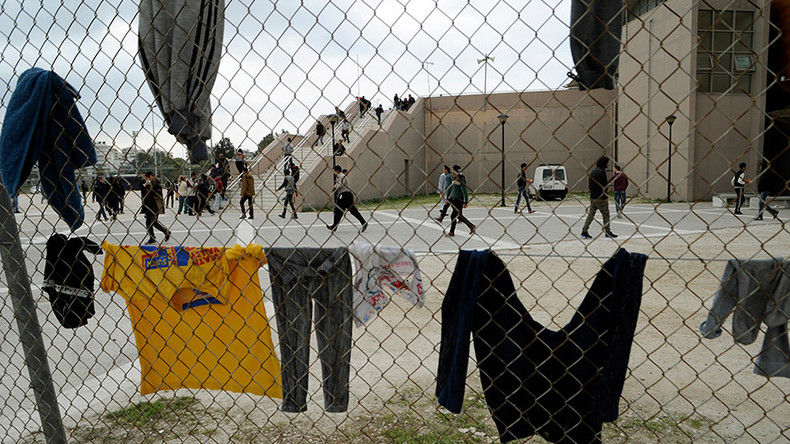 Around 100 migrants have been detained after scuffles broke out among refugees accommodated at a stadium in Paleo Faliro outside Athens. Riot police had to intervene after tensions flared up when a group of migrants attempted to blackmail people.
In a melting pot of different nationalities kept under one roof, friction ran high among the rivalries. On Saturday, two units of riot police had to intervene after a group of Moroccans tried to sell protection to other refugees, or face physical punishment.
"I was told that a group of Moroccans were blackmailing people to give them money, or be forced to leave," Greek Alternate Minister Yiannis Mouzalas on migration policy told Greek MEGA TV.
Most refused and were attacked by the group of extortionists. The scuffles caused a Hollywood type fight and migrants used everything available to them to protect themselves. However, in doing so they trashed the place. Windows were shattered and broken furniture was left everywhere.
Mouzalas acknowledged that a number of refugees temporarily housed at the former Olympic venue are economic migrants, with some among them "who commit crimes." He said it does not extend to most of the population of migrants, who currently number more than 2,500 people.
After the riot, police intervened and detained over 100 people, who might now be deported. The authorities segregated the various rival groups.
"There are Moroccans, Algerians, Yemenis, Eritreans, it's easy for a brawl to break out," said the mayor of Palio Faliro, Dionysis Hatzidakis.
The former Olympic Tae Kwon Do Center in Palaio Faliro is one of three temporary facilities being used to accommodate migrants. It is only available until December 17, when a sporting event is scheduled to begin. Moreover, the facility can accommodate no more than 300 people in an emergency, and it is already overcrowded.
"We sleep on the floor, there are no mattresses, there is no hot water," Mohammad, a 36-year-old Palestinian, told AFP.
This is not the first time scuffles at this venue have taken place. On Thursday, three people were injured in a fight that apparently broke out over an attempted cellphone theft, according to the ProtoThema weekly.
Authorities have found it difficult to accommodate thousands of migrants, who arrived in mainland Greece this week from the Aegean islands, and from a camp near the border with the Former Yugoslav Republic of Macedonia (FYROM), which was dismantled on Wednesday.
The mayors of Glyfada, Hellinikon and Paleo Faliro have voiced their serious concerns at the lack of planning prior to the "dumping" of refugees and migrants in their areas.