ISS trio lands safe & sound in Kazakhstan, 1st return from space after sunset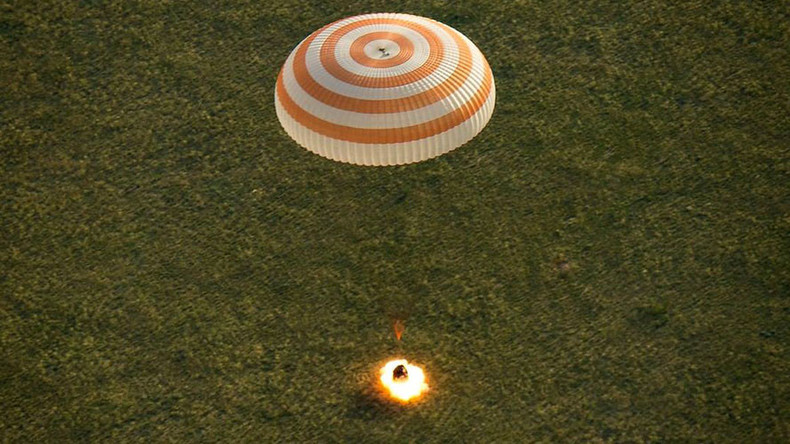 The Soyuz TMA-17m space capsule carrying three ISS crewmembers has returned from its mission and landed safely in Kazakhstan. It is the first time a crew has landed after sunset.
The trio, flight engineers Kjell Lindgren of NASA, Oleg Kononenko of Roscosmos (Russian Federal Space Agency) and Kimiya Yui of the Japan Aerospace Exploration Agency, have been in orbit for nearly five months.
"Three crewmembers from the International Space Station returned to Earth on Friday. The landing in Kazakhstan wrapped up a space mission that lasted 141 days and returned samples from several NASA human research experiments aboard the station," NASA wrote in a press release.
Roscosmos added that all the operations, including descending from orbit and landing went normally. All three are safe and sound, added Roscosmos.
Their capsule touched down at approximately 19:12 local time (13:12 GMT) northeast of the remote town of Dzhezkazgan in Kazakhstan.
"It was the first time a crew has landed after sunset and only the sixth nighttime Soyuz return from the space station," NASA said.
Now the space trio will have to adjust to gravity after their stay in space. Russian recovery teams helped them exit the Soyuz vehicle and loaded them into waiting helicopters for return flights home. The astronauts will now fly either to NASA's Johnson Space Center in Houston or the Gagarin Cosmonaut Training Center in Star City, northeast of Moscow.
READ MORE: Soyuz takes manned space mission to ISS, 1st time since Progress, SpaceX failures
Kononenko, Yui and Lindgren successfully docked at the ISS on July 23. For Yui and Lindgren it was their first trip into orbit, while Kononenko was on his third ISS mission. The Russian cosmonaut has now clocked up 553 days in space.
On the ISS the crew took part in Earth observations and conducted research into physical, biological and molecular science.
The trio also welcomed three cargo spacecraft during their mission: the fifth Japanese HTV in August, a Russian ISS Progress in October, and Orbital ATK's Cygnus.
"Such investigations enable research breakthroughs and drive technology innovations that provide benefits on Earth, and will enable long-duration human and robotic exploration missions into deep space," NASA added.
The other three ISS crewmembers, Commander Scott Kelly of NASA and Russian cosmonauts Mikhail Kornienko and Sergey Volkov will remain on the space station until the spring of 2016.