Paint it yellow: 30 Greenpeace activists scale Arc de Triomphe in renewable energy protest (IMAGES)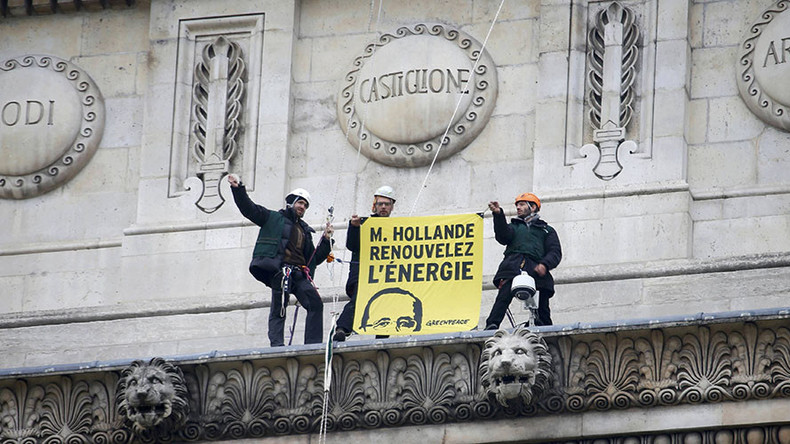 At least 80 Greenpeace activists gathered at the Arc de Triomphe in the French capital to push the French government to accelerate the switch to renewable energy. Around 30 of them climbed the Arc before police intervened and made 'several arrests.'
Those on the Arc displayed a yellow banner, reading "Mr Hollande, renew energy," while one of the protestors used mountaineering gear to dangle between the abutments at a height of around 30 meters.
The pavement around the arc and several streets connected to the Place Charles de Gaulle were covered with yellow paint, which was chosen by Greenpeace as the signature color of their action.
Traffic was quickly cut off in the area, with a large police detail deployed to the Arc to restore order.
According to French radio Europe 1, police said they arrested "several" people following the action at the Place Charles de Gaulle.
Greenpeace later released a statement explaining the symbolism of their action in the heart of the French capital.
According to the organization, 30 of its members from France, Germany and Belgium managed to climb the Arc de Triomphe, while the man dangling from the structure "symbolized the future of our planet, which is hanging by a thread."
"The other 50 activists drew a yellow sun, with a diameter of 300 meters, around the Arc de Triomphe and adjacent streets," the statement added.
A transfer to renewable energy is the only solution in the global struggle against climate change, Greenpeace stressed.
Earlier on Friday, Greenpeace International executive director, Kumi Naidoo, and the head of Greenpeace France, Jean-François Julliard, delivered a petition to the French leadership.
It was signed by 101,269 people and urged President Francois Hollande to commit to renewable energy 100 percent by 2050.
Renewable energy comes from resources that are naturally replenishable and include sunlight, wind, rain, tides and waves.