Israel successfully blows up space target with US-funded Arrow 3 missile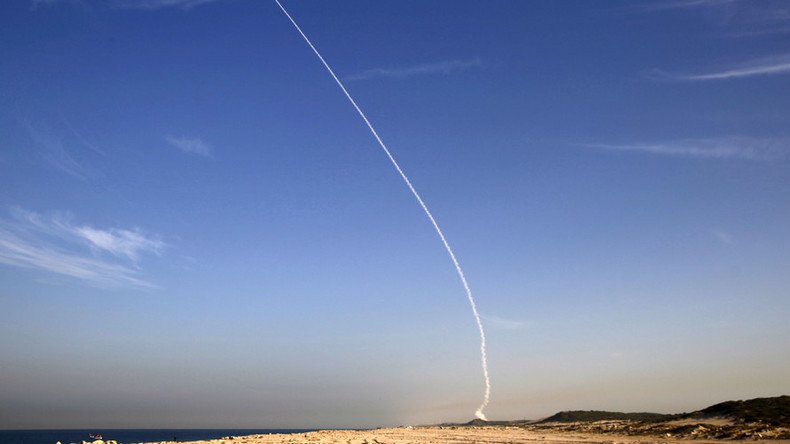 Israel has successfully tested its Arrow 3 ballistic missile shield, partly funded by the US and intended to deter long-range weapons held by the likes of Iran and Hezbollah, the Defense Ministry reported.
"The success of the Arrow 3 system today ... is an important step towards one of the most important projects for Israel and Israel Aerospace Industries (IAI) becoming operational," IAI chief executive officer Joseph Weiss said, according to Reuters.
READ MORE: Israel asks US for additional $300mn for missile defense – report
The Arrow system is a joint project between IAI and the US aviation giant Boeing. Each Arrow 3 missile costs about $2.2 million, according to Haaretz. American officials were present at the test on Thursday, as the latest system hit targets in space, meant to simulate a nuclear or chemical weapon that Iran, Syria or Hezbollah could launch, according to the Israelis.
The missile flies into the atmosphere, where it splits up into 'kamikaze' satellites that lock onto and eliminate targets.
Thursday's success represents another boost of confidence for the Arrow system. Another attempt was made last year, but was unsuccessful, with designers alluding to a faulty deployment of the target.
Arrow 3 is the top-tier system in Israel's missile shield arsenal. The country's lowest-tier defense is the short-range Iron Dome interceptor. Next year Israel will present David's Sling – a system intended to intercept mid-range targets.
Although this summer's nuclear deal with Iran has somewhat calmed nerves in the region, Israel – which fought a bloody war against Hamas in Gaza in 2014 – is continuing a policy of viewing its regional neighbors with suspicion.
"Everyone knows that you have to prepare with an eye well beyond the horizon, especially as the enemy's capabilities improve all the time," a senior official told Reuters.
READ MORE: Israel test-fires 'David's Sling' missile defense system
Yair Ramati, head of anti-missile systems at the Israeli Defense Ministry, said discussions will take place in the coming months to decide on Arrow 3's deployment, adding that the system will undergo more tests until then.
The results of the trial will be made available after further analysis.
You can share this story on social media: