ISIS posts propaganda song in Mandarin to recruit Chinese Muslims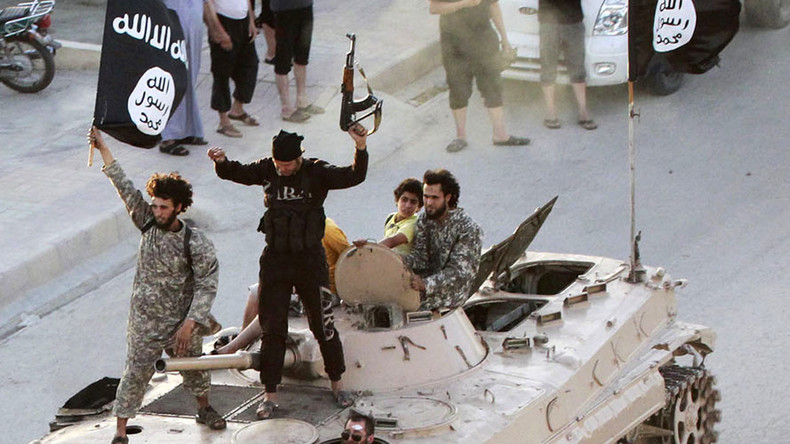 Islamic State militants (IS, formerly ISIS/ISIL) have reportedly published a propaganda song in Mandarin to attract attention of Chinese Muslims. This comes amid Beijing's calls to strengthen international cooperation against terrorism.
The four-minute song in form of 'nasheed,' an Islamic a cappella chant, emerged online on Sunday, according to the SITE Intelligence Group, which monitors and tracks jihadist groups online.
"We are Mujahid, our shameless enemy panics before us," a male voice is heard singing accompanied by a chorus. No instruments can be used in IS songs, as their radical Islam interpretation bans any use of non-vocal music.
It's not clear how the song could reach the Chinese Muslims, though: cyberspace in China is known to be tightly controlled and protected by the government. The song is one of the few cases such materials have appeared in Mandarin. Muslims are a minority group in China with about 1 to 2 percent (over 21 million) living in the country, according to a 2009 study done by the Pew Research Center.
Reacting to the song Beijing reiterated its calls to strengthen global cooperation against terrorism on Tuesday.
"In the face of terrorism, no country can stand on its own, and the international community should stand closer together and cooperate to jointly strike against all forms of terrorism," Foreign Ministry spokeswoman Hua Chunying told a news briefing.
In a separate briefing on Tuesday, Chinese Vice Foreign Minister Cheng Guoping said Beijing already participates in an international cooperation program against terrorism with Moscow and Washington, but did not elaborate.
"At present, relevant countries have proactively coordinated and consulted on their anti-Islamic State actions in Syria and they have had definite progress on fighting terrorism," Cheng said.
On November 19, IS said it executed a Chinese national in the Middle East with the Chinese Foreign Ministry shortly confirming the information. Meanwhile, on November 20 three Chinese executives were killed in Mali when Al Qaeda affiliated Islamist militants stormed a hotel.
READ MORE: China vows to bring ISIS to justice as Chinese hostage confirmed killed
Meanwhile, about 300 Chinese nationals are fighting alongside the IS in Iraq and Syria, Chinese state-run newspaper People's Daily reported in November.
You can share this story on social media: