Russia strikes ISIS targets in Syria from sub in Mediterranean for first time (VIDEO)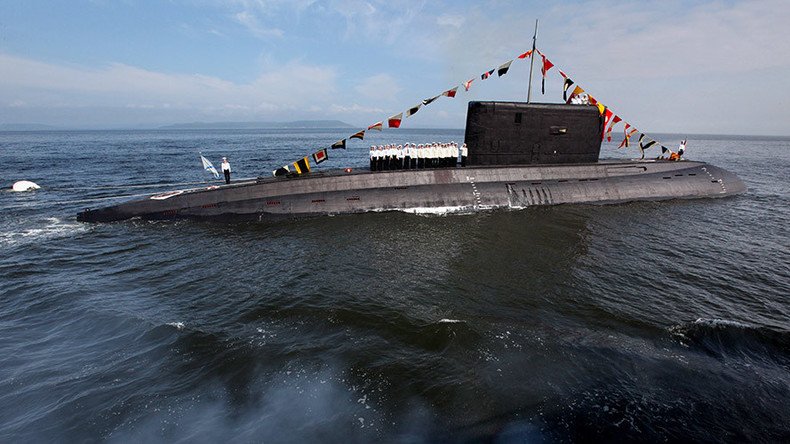 Russia has, for the first time, targeted Islamic State targets in Syria with Kalibr land-attack cruise missiles launched from a submarine in the Mediterranean Sea, according to Russia's Defense Minister.
The 3M-54 Kalibr missiles were launched from the Kilo-class diesel-electric submarine "Rostov-on-Don", Defense Minister Sergey Shoigu told President Vladimir Putin on Tuesday.
Russia's warships based in the Caspian and Mediterranean seas launched similar missiles targeting Islamic State (IS, formerly ISIS/ISIL) positions in late November. This is the first time that Russia has targeted IS in Syria from a submarine.
"[The missiles] targeted two major terrorist positions in the territory of Raqqa," he said.
"We can say with absolute confidence that significant damage has been inflicted upon ammunition warehouses and a mine production plant, as well as the oil infrastructure."
Earlier on Tuesday, a source within the Russian Ministry of Defense revealed that the Rostov-on-Don, equipped with modern Russian Kalibr cruise missiles, had appeared near the Syrian coast.
READ MORE:Russian submarine with cruise missiles off Syria coast - reports
Shoigu stated that in the past three days Russian Air Forces have carried out over 300 sorties hitting 600 terrorist targets.
"In the past three days, the operation involved Tu-22 planes as well as warplanes from the Khmeimim airbase. In total we carried out 300 sorties and hit 600 various targets," he said adding that all sorties were performed with the backing of Su-30 fighter jets.
Speaking to the president, Shoigu also said that the flight recorder of the Russian Su-24, recently downed by Turkey near the Syrian-Turkish border, has been found and presented it to Putin.
Putin told Shoigu that it should be opened only in the presence of international experts.
Russia has been conducting airstrikes targeting Islamic State (IS, former ISIS, ISIL) militants and other terrorist groups in Syria since September 30. The air campaign was launched after a formal request from Damascus. Russian jets have been carrying out sorties from Khmeimim Air Base in Latakia.
Turkey has been insisting that it downed the Russian Su-24 bomber on November 24 because the jet had violated its airspace for "17 seconds" and said that the jet's crew had been repeatedly warned prior to the attack.
READ MORE:Turkish F-16 attacked Russian Su-24 without warning, both were above Syria – commander
Moscow has denied Ankara's claims, saying that the Turkish F-16 attacked the Su-24 without warning and over Syrian territory. The surviving Russian pilot, Konstantin Murakhtin, stated that neither he nor Lieutenant Colonel Oleg Peshkov, who was killed by Turkmen rebel machine gun fire after ejecting, had received any radio or visual warning.
You can share this story on social media: