Right-wing Norway govt paying asylum seekers to leave country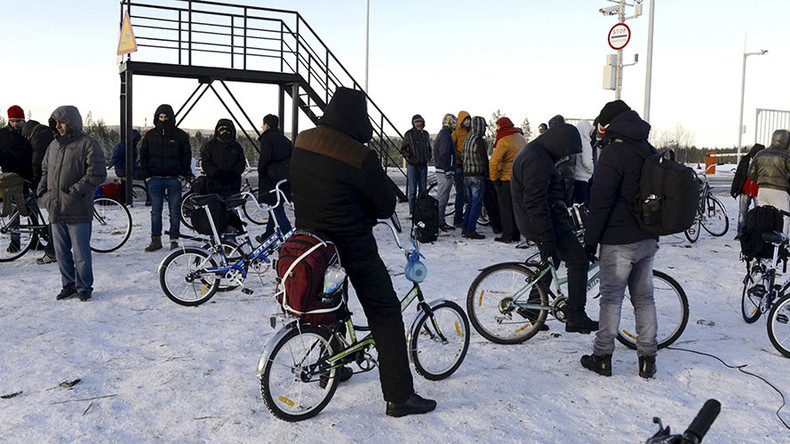 The conservative coalition currently running Norway is advancing its anti-immigrant platform by offering vulnerable refugees nearly US$10,000 and free flights home.
900 people so far have applied to take advantage of the offer, according to the Norwegian Directorate of Immigration (UDI).
Long wait times for family reunification, barriers to finding work, and lack of access to education are leading more asylum seekers to express an interest in leaving Norway, according to TheLocal.no.
A family with two children can receive upwards of 80,000 kr (US$9,300), as well as have their airline tickets bought by the state.
While the offer may seem like an altruistic gesture on the part of the government, it follows the introduction of an anti-refugee advertising campaign last month, similar to a campaign in Denmark. Both countries were occupied by the Nazis during World War 2.
Joran Kallmyr, a state secretary in Norway's justice ministry, told the state broadcaster NRK that the campaign would, among other things, inform potential asylum seekers of the government's proposals to cut the benefits they will receive if they win asylum in the country.
He said the campaign is mostly carried out through social media and newspaper ads in Afghanistan, Russia, and other countries, in the hopes of reducing the number of refugees coming to Norway.
Norway's anti-immigration Progress Party, which once counted the convicted mass murderer Anders Breivik among its members, has been in government with two other conservative parties since 2013.
Breivik killed 77 people during a bombing and shooting rampage in July 2011, mostly targeting young, multicultural, left-wing students.
The new government offer to asylum seekers advances Breivik's anti-immigrant ideology and garnered mixed reaction online.
Police in Norway are investigating whether arson by anti-immigrant terrorists was the cause of a fire at Hotel Lune Huler north of Bergen this past Sunday.
It was going to be temporary accommodation for teenaged refugees from war torn countries like Syria, Afghanistan, and Iraq.
The number of asylum applications is on the rise, according to the Norwegian division of the International Organization for Migration (IOM), which processes the requests.
"Earlier this year, the number was an average of 100 per month. In October, there were 150 and in November there were 230 applications," IOM spokesman Joost van der Aalst told Norwegian broadcaster NRK.
Migrants often find themselves in remote areas of the country where they found it difficult to put their work experience to use.
Those with denied applications can seek economic assistance to return home, but due to popular demand, UDI warned it may be necessary to reduce the amount of money offered to asylum seekers who wish to repatriate.