Air France flight from San Francisco to Paris diverted to Montreal after bomb threat (VIDEO)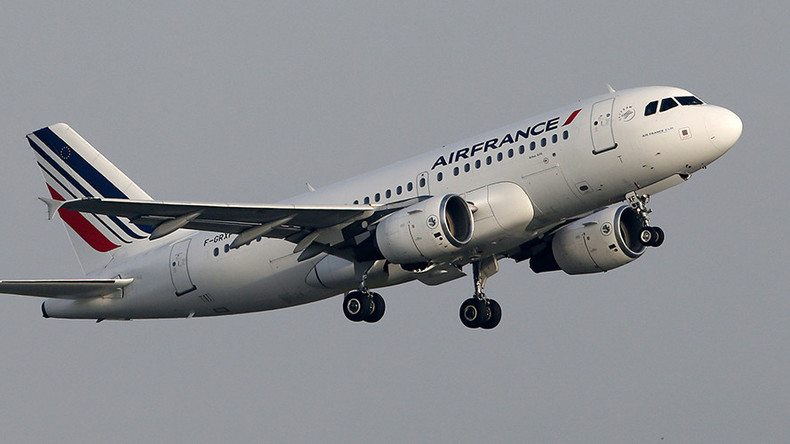 An Air France flight AF83 from San Francisco to Paris has been diverted to Montreal's Trudeau Airport after a bomb threat.
Pierre-Elliott-Trudeau Airport's spokesman François-Nicolas Asselin told Le Journal de Montreal newspaper there are 231 passengers and 15 crewmembers on board. The airport is in contact with Air France and the "investigation is on" to find out more.
One of the passengers aboard has tweeted a picture from inside the plane showing fellow travellers getting ready to exit the aircraft.
The flight departed on Monday, about 3pm San Francisco time, and was due to arrive in Paris on Tuesday at 10.30am.
At least 15 fire trucks and police cars were waiting for the aircraft and Canadian authorities were checking the plane, passengers and baggage.
Air France said in a statement Tuesday morning that the crew of Flight 83 decided to divert "as a precautionary measure," as quoted by AP. Airline spokeswoman Ulli Gendrot said all passengers were off the plane within several hours of landing.
Passengers were allowed to leave the plane in groups of 50, and are being questioned by investigators.
Passenger Gilles Raymond of San Francisco told AP that after about five hours in the air the pilot announced they would have to land due to technical reasons. Once the aircraft had landed, the pilot said authorities would have to do a security check of the plane and passengers and that everyone would have to disembark.
"Everyone is pretty relaxed. There was no panic, no stress. Everyone is waiting in their seats. Some people are sleeping, and some are checking their phones or eating ice cream that the flight attendants gave them," Raymond said while still inside the aircraft.
He said passengers spent at least an hour while the checks went on.
"They told us they will check every passenger and that we may spend the night here," Raymond added.
You can share this story on social media: