Christmas tree in Russia pulled down after locals say 'it looks like dildo'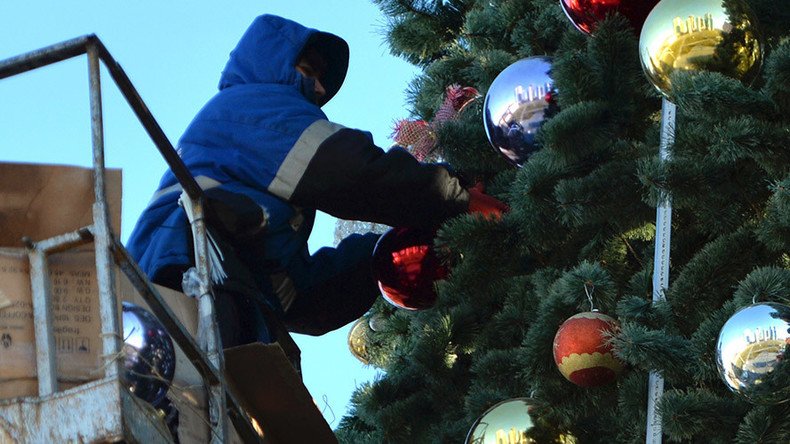 A fir tree that was installed in the town of Noyabrsk in Russia's Siberia caused a stir on social media, with locals suggesting it resembled males' primary sexual organ. Following numerous complaints, the phallic-shaped decoration had to be replaced.
The artificial tree that had a wider bottom and got narrower to the top "looked more like a festive penis than a fir tree," locals said on social media. While some complained that it was their aesthetic sensitivity that suffered, others got more superstitious and suggested that the odd looking tree might symbolize a "hard upcoming year."
Others were "anticipating what more New Year symbols – the Father Frost [Russian Santa Claus] and his Snow Maiden to be put next to it would look like."
READ MORE: French 'intolerance'? Artist outraged after 'queen's vagina' Versailles sculpture is vandalized
That will remain a mystery now, as the city authorities – who first said that the installation of the tree was simply uncompleted, decided to take it down altogether.
The "penis tree" in a small town in Siberia caught the attention of Vitaly Milonov, a St. Petersburg lawmaker, Russian media reported. Earlier, the politician had promised to deal with the installation.
"Have [local authorities] seen it at all? ... It must be understood that a fir tree is put up not for the bloggers' [entertainment], but for families with children. This fir tree must be immediately replaced, and an investigation should be launched into how much money had been spent on it," Milonov said.
Last year, a giant green Christmas tree erected in a Paris square made headlines, with people saying the decoration resembled a sex toy. Following public outrage, the controversial object that had been designed by a US artist was taken down.
You can share this story on social media: