Red alert! Beijing issues highest possible smog warning for very first time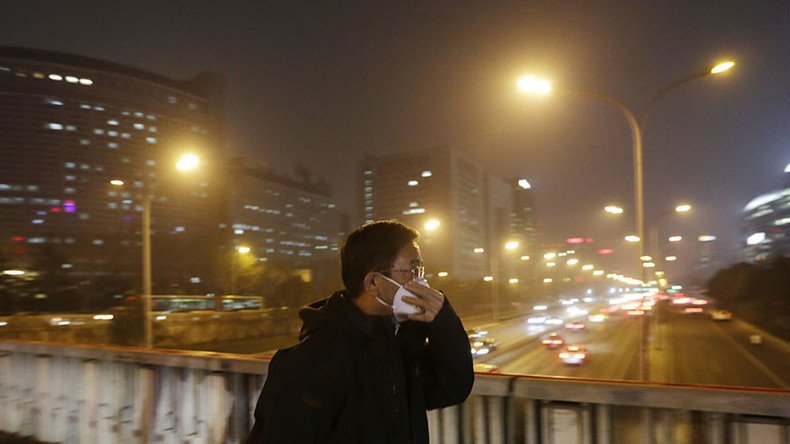 Beijing has issued a red pollution alert, its most severe smog warning, for the very first time. The government has warned that the Chinese capital could come under a heavy haze from Tuesday until Thursday.
The warning, which was upgraded from the previous orange alert on Monday, will be effective from 7am December 8 until noon on December 10, according to a statement on the Beijing Municipal Environmental Protection Bureau's official Weibo account.
The bureau said it issued the alert to "protect public health and reduce levels of heavy air pollution." It ordered certain industrial companies to stop or limit production, and outdoor construction work to be banned. Primary schools and kindergartens have been urged to cancel classes.
People have been advised to avoid outdoor activity, and to use public transportation if they must travel. Traffic restrictions have been placed on certain types of vehicles, and cars have been limited to driving every other day, depending on the last number of their license plate.
The government does not expect clear skies to return until after the smog peaks on Wednesday, according to the China National Environment Monitoring Center, as cited by Bloomberg.
Monday's intense smog came after five days of hazardous pollution beginning November 27. The decision to elevate the alert level was unexpected, as last week's pollution was more intense but only resulted in an orange alert. The country's alert system is still new, having been implemented in March 2015.
Monday's concentration of the hazardous tiny airborne matters known as PM2.5 measured at 208 micrograms per cubic meter at 6pm on Monday, compared with 666 micrograms per cubic meter last week, according to the Beijing Municipal Environmental Monitoring Center. The World Health Organization considers 25 micrograms per cubic meter to be a safe level.
The country's poor air quality has raised concerns about the government's ability to tackle the issue, despite promises from leaders that cleaning up the environment is a top priority.
Polluted air in China has had severe health effects on the country's residents, according to a study published in Nature magazine this year. The research, conducted by chemist Jos Lelieveld of Germany's Max Planck Institute, estimated that 1.4 million people die prematurely each year due to the country's pollution.
China's pollution is largely blamed on coal-fired power plants, vehicle emissions, and construction and factory work. The country, which is the biggest carbon emitter in the world, says it plans to upgrade coal power plants over the next five years to help tackle the problem. China depends on coal for more than 60 percent of its power.
You can share this story on social media: