Tiger & goat: Big cat and 'failed lunch' now BFF in Russian safari park (VIDEOS)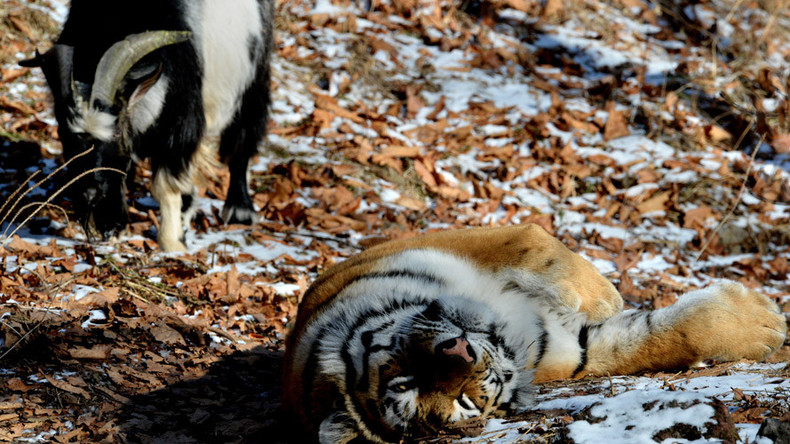 A Siberian tiger named Amur and a goat named Timur – that had been given to the predator as meal, but ended up as his best friend instead – are now inseparable. They sleep, eat, and even play together, videos posted by zookeepers on YouTube show.
In the latest clip filmed by the park's director, Dmitry Mezentsev, Amur is seen nuzzling at Timur's food – hay and vegetables. The tiger is also seen licking and playing with a piece of salt – intended for those with hooves, not paws.
READ MORE: A tiger's best friend is a... goat: Activists call on zookeepers to separate the pals
"Maybe it's time for the tiger to become a vegetarian," the park director wonders.
"An amazing bond," Mezentsev says. The goat apparently keeps following the tiger everywhere "like his tail."

"They are even playing together, we've witnessed it, and not just once," he said.
After staff at the Russian safari park put the goat inside the big cat's enclosure last month (as a lunch offer that didn't work out), some activists called on the zookeepers to resettle the goat, fearing for Timur's dear life. However, after Amur and Timur were separated, the tiger roared all night.

As for Timur, although the horned herbivore had the option of sleeping in a shelter made especially for him, he opted to stay close to his sharp-toothed pal, the zookeepers said.
"They've been standing nose to nose through the fencing," the park's director said, adding that the goat becomes stressed when the tiger is not around.

For several nights, the goat even forced the tiger out of his bed, making Amur sleep on the roof of the cave, as Timur lay comfortably in the tiger's cot.
During the day, the two animals spend a lot of time together. The tiger is often seen relaxing in his enclosure while the goat feeds nearby.

Amur doesn't appear to view Timur as prey, the zookeepers say. The goat runs a smaller risk in the tiger's cave, than some people living next to each other, Mezentsev commented in his video.
The rare bond between the two animals has become a worldwide sensation. People have been following Amur and Timur's routine online, while visitors flock to the safari park in Primorsky Krai in Russia's Far East.

"I'm speechless, it's a miracle," one visitor said.