2 dead, 29 missing as Azeri oil rig fire in Caspian Sea prompts evacuation (VIDEO)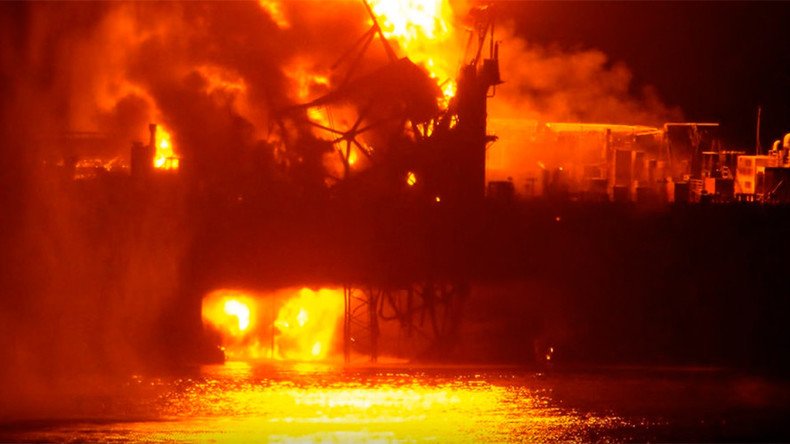 A major fire has broken out on an offshore oil platform in Azerbaijan's section of the Caspian Sea. The company says two people died and 32 were evacuated - while 29 more are missing.
The fire started overnight at a rig at the Gunashli field southeast of Neft Daşları (Oil Rocks) settlement. It was caused by strong winds that damaged a gas pipeline on the platform, the Azeri state energy company SOCAR said.
"The fire in the gas pipeline has not been completely extinguished and it has not been ruled out that it could spread to oil and gas wells near the platform," it stated.
The rescue operation was hampered by stormy weather with waves rising up to 11 meters high, Trend news website reported.
Initial statements did not mention those missing. The order signed by President Ilham Aliyev to launch a probe into the fire only said 1 person was killed and 32 were saved.
At the same time, the independent Oil Workers' Rights Protection Committee told Reuters that over 30 platform workers were killed in the blaze.
"According to our information, 32 workers died, while 42 workers were rescued last night," said Mirvari Gakhramanly. He later told the AP those were not dead, but missing.
SOCAR eventually confirmed people were missing, but put the number at 30.
"One body was found and a search-and-rescue operation for 30 missing workers is under way," the oil company said in a statement.
Local reports suggest one of the rescue boats was overturned in rough sea.
The search and rescue mission continues.
It is still not clear how many people worked on the rig. The Azeri news agency ARA says 63 people were there, which doesn't match the numbers provided by the independent committee.
In a separate incident in the area, the storm waves hit a small house near e Caspian shore with three people inside who remain missing, according to the news website Day.Az.
You can share this story on social media: