'Hostile act:' Iraqi PM denounces US ground forces deployment on Iraq's territory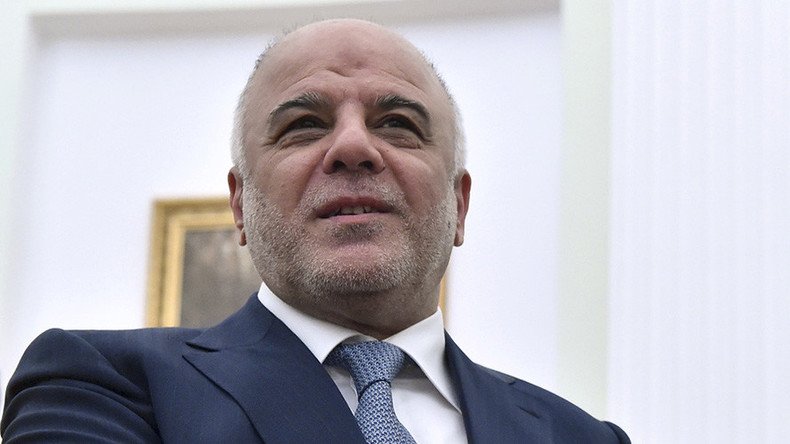 Iraq has not requested that any country send ground troops into its territory and will regard any such move as a "hostile act," the country's prime minister, Haider Al-Abadi, said in view of a US decision to deploy special forces in the country.
Iraq "will consider any country sending ground combat forces a hostile act and will deal with it on this basis," Al-Abadi said in a statement published by the prime minister's office on Thursday, adding that "the Iraqi government is committed to not allowing the presence of any ground force on the land of Iraq."
"The Iraqi government confirms its firm and categorical rejection of any action of this kind issued by any country [that] violates our [Iraq's] national sovereignty,"Al-Abadi also said in the statement.
Baghdad "did not request any side... to send ground forces to Iraq," he added, thus refuting reports that the Iraqi government had called for deployment of foreign troops to help Iraqi forces fight Islamic State (IS, formerly ISIS?ISIL).
Iraq does not need any foreign forces from any state or international coalition, it only needs weapons, ammunition and training from its partners and allies in the fight against IS, the prime minister's statement says.
Al-Abadi's statement comes after the US announced plans to dispatch special forces to Iraq to fight Islamic State, both in Iraq and northern Syria. On November 24, a US Combined Joint Task Force spokesman, Colonel Steve Warren, said that about 100 Expeditionary Targeting Force personnel would be sent to Iraq with some US senators proposing tripling that number, AFP reports.
Even though US President Barack Obama had repeatedly claimed that there would be no US "boots on the ground," he eventually approved the deployment of Special Forces against IS.
It is still unclear how the Iraqi prime minister's statement will affect US deployment plans, with US officials yet to comment.
In October, Iraq's ruling coalition calling on the prime minister to request Russian air support in the fight against IS, criticizing the actions of the US-led coalition in Iraq.
"The largest bloc has sent a request to the prime minister to add further forces to the fight against terrorism and not only to rely on the United States and the international coalition, which has up till now been rather shy in its efforts to destroy [Islamic State] bases in Iraq," Saad Al-Matlabi, a member of the country's State of Law Coalition, told RT at that time.
"The public mood is definitely in favor of Russian involvement because it has been over a year and a half now and ISIS has flourished in Iraq under the American airstrikes. One could question the honesty and integrity of the US airstrikes," the Iraqi politician added, stressing that Russian strikes in Syria "have proved quite efficient in destroying [Islamic State] bases ..."
In earlier statements, Al-Abadi also claimed he would "welcome" Russian air support.
"If we get the offer, we'll consider it. In actual fact, I would welcome it," he said in an interview with France-24 TV on October 1, referring to potential Russian air strikes against IS on Iraqi territory.
Al-Abadi also accused the US-led coalition of a lack of support in that interview and also questioned the will of the West to defeat Islamic State.
You can share this story on social media: