Fugitive of Paris attacks recruited men at Budapest train station amid refugee crisis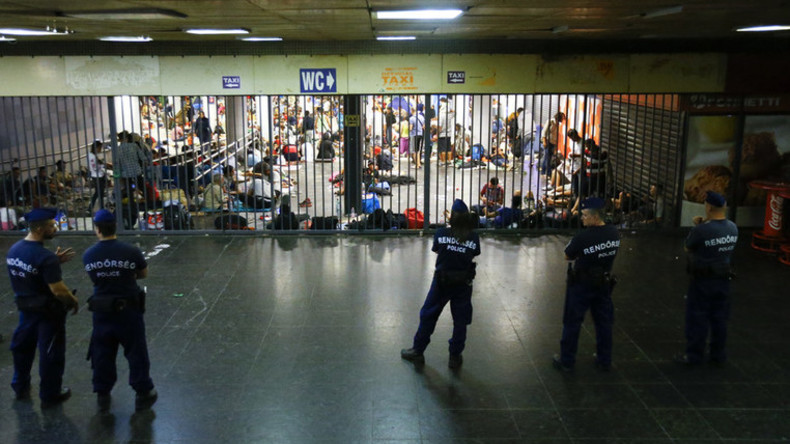 One of the alleged organizers of the November Paris attacks, Salah Abdeslam, went to one of Budapest's main train stations in mid-September and left with two men who had just arrived with a wave of refugees, Hungarian officials have said.
Abdeslam travelled through the Hungarian capital's Keleti train station, Janos Lazar, Prime Minister Viktor Orban's chief of staff, said on Thursday at a press-conference, without naming the alleged terrorist or exact date of his visit to Budapest.
"I can confirm that ... based on current information of the Hungarian secret services, one of the chief organizers of the Paris attack ... had been in Budapest," Lazar said, as quoted by Reuters.
He also said that Hungarian secret services had confirmed information about Abdeslam visiting Budapest, which was previously obtained from an unnamed foreign agency, stressing that the agency did not have this information at the time of the Paris attacks.
Although Lazar did not mention Abdeslam by name, another Hungarian government official confirmed his identity to the Associated Press on condition of anonymity.
According to Lazar, Abdeslam recruited two young men at the station who were refusing to register in Hungary and left the country with them. AP added that this had happened in mid-September.
The Keleti train station has been at the center of the current refugee crisis, as thousands of people congregated at Keleti over the summer seeking to board trains bound for Austria and Germany.
On Wednesday, a French judicial source told Reuters that Abdeslam visited Hungary to pick up two men who are suspected by French investigators of having been involved in the terrorist attacks in Paris.
Another source told the news agency that Abdeslam was stopped by police on the Austrian border before entering Hungary in a car rented in Belgium.
Investigators across Europe are still hunting for Abdeslam, who is suspected of being one of the terrorists involved in the Paris attacks claimed by Islamic State.
Seven other attackers died in the assaults and the suspected mastermind, Abdelhamid Abaaoud, was killed during a police raid on a flat in northern Paris a week later.
Paris attacks cost just €30,000 to organize
Meanwhile, French Finance Minister Michel Sapin said at a press-conference on Thursday that the cost of the Paris attacks could have amounted to just €30,000 ($32,000).
"The cost of these latest attacks, the financing of the attacks, represents a sum not exceeding €30,000," Sapin said, adding that the extremists apparently did not need to move large sums of money during the course of their preparations.
The attackers apparently financed their assault by collecting small sums, particularly from prepaid credit cards, making their financial transactions hard to track, Sapin said, as reported by French media.
According to the French finance ministry's intelligence unit, Tracfin, the attackers used prepaid cards bought in Belgium to pay for the rental cars and apartments two days before the terrorist acts.
France plans to allow Tracfin easier access to the suspects' files and assets as part of a crackdown on funds that could possibly be used to fund future attacks, with Sapin stressing that tracking even small sums could be "crucial" in fighting terrorism.
On Wednesday, during his visit to Berlin, Sapin also urged Europe to enhance its efforts to curb terrorist financing by developing closer cooperation in tracking and freezing bank accounts of people suspected of terrorist activities, as well as targeting their other assets, including "buildings, vehicles" and even "social allocations."
Sapin also drew attention to the illegal trade in works of art and called for tighter controls in this area.
A "harmonization of checks on the import of these objects [of art]" is needed as "in our developed countries, people buy – sometimes unknowingly, objects stolen by [Islamic State]," Sapin said, as quoted by the Local.