16 killed in Molotov cocktail attack on Cairo nightclub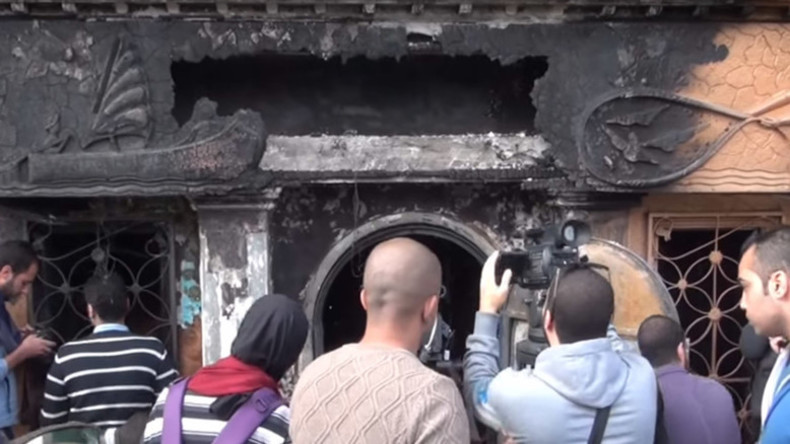 A firebombing at a nightclub in the Egyptian capital of Cairo claimed 16 lives after two men were denied entry by staff, one of which was a disgruntled former employee.
The attackers tossed multiple Molotov cocktails at the El Sayad club and restaurant, located in a hotel in the Agouza area near the center of Cairo in the early morning assault.
Sixteen people died and three others sustained injuries in the fire that broke out.
Egyptian authorities were quick to underline that the incident in Cairo had no links to terrorism.
The police are looking for six suspects in the attack, two of whom were denied entrance to the club earlier in the evening.
An unnamed official told Reuters that one of the attackers was an employee who had been fired from El Sayad recently.
The perpetrators "went and drank alcohol somewhere else, brought four others with them and came on three motorcycles at around 6 in the morning," Interior Ministry spokesman Abu Bakr Abdel-Karim is cited by AP.
"They then threw a Molotov cocktail at the entrance of the place. This caused the fire and the smoke and the 16 deaths," he added.
No one inside the cub, which had just a single exit, survived the Molotov cocktail attack, Abdel-Karim stressed.
"That was only one door, and the door is narrow and unfortunately also the place is one meter (three feet) underground," Abdel-Karim said.
According to the spokesman, eleven of the victims were the club's staff, while the identities of five others — four women and one man — are yet to be established.
The people in the club died of suffocation, he added.
The spokesman provided no information about the three people hurt in the attack or the nature of their injuries.
Security remains an issue in Egypt as Islamist militants have conducted attacks mostly targeting security troops since the military deposed Islamist President Mohamed Morsi of the Muslim Brotherhood following mass protests in 2013.