Anniversary present: RT first news network to hit 3bn views on YouTube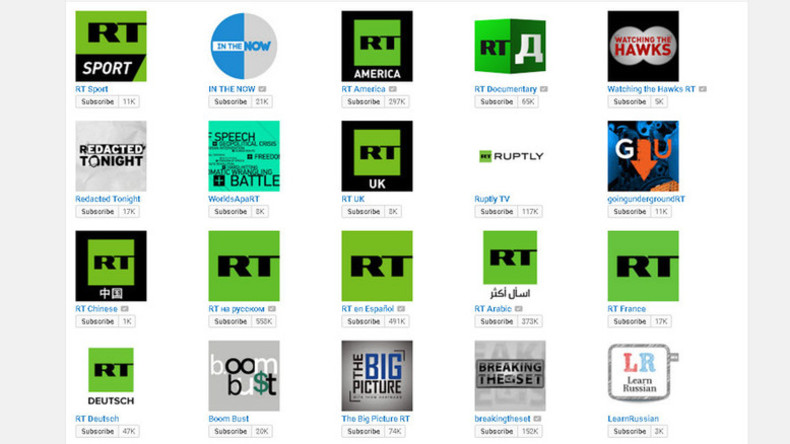 It has taken RT's YouTube channels less than 12 months to go from 2 to 3 billion views for its videos on the media sharing network, as RT celebrates its 10-year anniversary and stays ahead of CNN, BBC and other mainstream TV rivals.
"RT has remained the world leader for a number of years in terms of generating news content that enjoys robust demand with international audiences," said Kirill Karnovich-Valua, Head of Online Projects at the channel. "We constantly interact with our viewers, studying their attitudes and interests to make sure RT's current and future online projects are most relevant for them."
Even more than in previous years, RT has been able to attract viewers with footage that often shows a different side of big news events, or original clips that can't be seen anywhere else.
"In my opinion the market has become a little more homogenous as it develops, that's why it's fun to work with RT on platforms that value content from perspectives not always represented in mainstream news," said Ivor Crotty, the RT's Head of Social Media.
RT's various channels – including RUPTLY, its news agency arm – have worked together to deliver news through new platforms.
"While growth acceleration is connected to scale, we're also a better organization than we were a year ago. Teamwork with Ruptly has made an enormous contribution to our growth this year, delivering virals like the Shaolin monk. We're also livestreaming more in the Russian and Spanish verticals and that's proven very popular with YouTubers," said Crotty.
Of course, as the channel marks 10 years on-air and 8 years on YouTube, RT has also been able to rely on its ever-widening catalogue of thousands of past videos, which continue to be in-demand.
After taking six years to reach its first billion views, RT's channels, which now have over three million subscribers, took just 18 months to reach two billion, and hit the current three-billion milestone in a third less time.
After launching new services in German, Chinese, and French, together with its popular Spanish and Arabic services, RT is poised for even faster growth in 2016.