Worst in 100 years: Non-stop torrential rains ravage southern India (PHOTOS,VIDEO)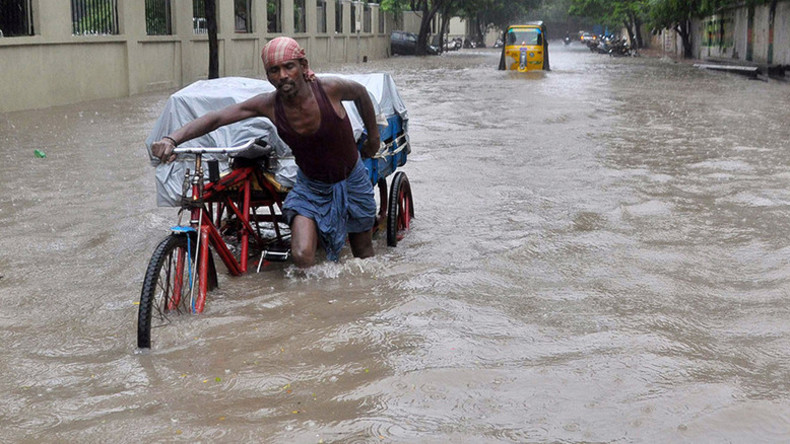 Thousands of people have been evacuated and a rescue operation is under way in Southern India, which has been severely flooded after several days of non-stop torrential rains, which prompted the closure of schools and factories and flight cancelations.
The city of Chennai, capital of the southern Indian state of Tamil Nadu, has been almost cut off from the outside world. According to local media, the rains have set a 100-year-old record in the city, which is home to about 6 million people.
"Heavy rain accompanied by strong winds may make the situation worse in Chennai," the Indian Meteorological Department (IMD) said, adding that the rains may continue for at least four days.
Thousands of people have been forced to flee their homes. The authorities have already canceled all flights and the trains have also stopped running, due to water on the tracks. Chennai International Airport, the fourth busiest in India, will remain shuttered until Thursday, Indian media reported.
The Indian Army, Navy and National Disaster Response Force (NDRF) have been deployed in the worst affected areas of the city.
"We have started the rescue operation but the biggest challenge is to find a way to clear the inundated airport and main roads," Anurag Gupta, a senior official at the National Disaster Management Authority in New Delhi said, as cited by Reuters.
Photos and videos of people floating in boats along streets that have turned into rivers have literally flooded social media, with residents helping each other and even rescuing pets. Hundreds of people in less-affected areas have opened their homes for those in need.
According to the local authorities, over 1 million people have been affected by the natural disaster.
"The police want to help but there are no boats. We are trying not to panic," Ramana Goda, a local resident in an affected area, told Reuters.
Heavy rains in southern India since the end of November have killed at least 188 people, Chief Minister of Tamil Nadu Jayalalithaa said.
"It was saddening to witness devastation and deaths during the festive season, but I have faith in the strength of Tamil Nadu," Indian Prime Minister Narendra Modi said on Sunday.
You can share this story on social media: