Decade of exclusives: 10 biggest RT interviews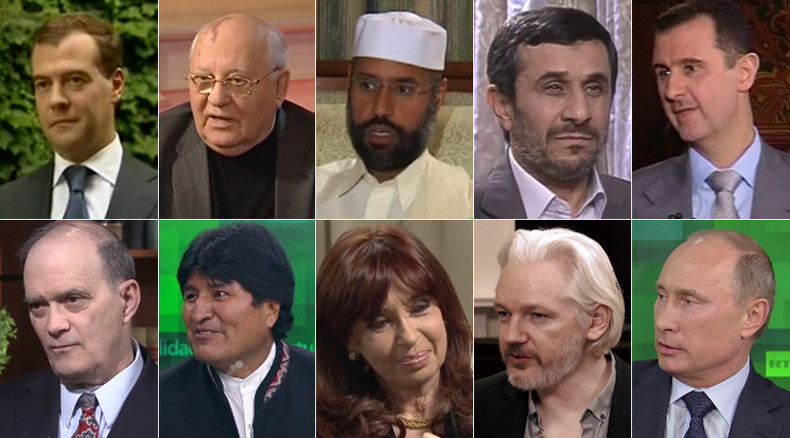 As we celebrate our first decade, we take a look back at some of the most important interviews we've managed to score.
August 2008: Dmitry Medvedev, then-president of Russia
Dmitry Medvedev spoke exclusively to RT on August 26, 2008, the day Russia officially backed the independence of Abkhazia and South Ossetia. The two republics had declared their sovereignty after Georgia's attack on South Ossetia, which resulted in a short, but deadly and destructive war.
March 2011: Ex-Soviet President Mikhail Gorbachev
RT sat down with Mikhail Gorbachev on the eve of his 80th birthday, in March 2011. In a rare interview, the USSR's first and last president looked back on his days at the county's helm, the Cold War and relations with the US.
July 2011: Saif Gaddafi, son of then-Libyan leader Muammar Gaddafi
Saif al-Islam Gaddafi's exclusive interview to RT was recorded about four months before his father, Colonel Muammar Gaddafi, was brutally killed in October 2011. Gaddafi's son likened his country to "McDonald's for the NATO", which wanted "a fast war and a quick victory" over the resource-rich country.
August 2011: Iran's then-President Mahmoud Ahmadinejad
Despite his packed schedule, President Mahmoud Ahmadinejad took the time to talk to RT in Tehran. In his exclusive sit-down with RT's Kevin Owen, the Iranian leader sounded off on the Arab Spring, disavowed nukes and opened up on his post-presidential plans.
November 2012: Syrian President Bashar Assad
The Syrian leader welcomed RT to his palace in Damascus, for his first exclusive interview with our network. With the Civil War raging in his country for over a year by that time, Assad vowed to stand his ground, declaring he is not a Western puppet and he would "live and die in Syria."
December 2012: William Binney, whistleblower and former NSA crypto-mathematician
William Binney, the man who blew the whistle on the NSA long before Edward Snowden, came to RT with a startling message: every US citizen can be watched.
June 2013, Russia's President Vladimir Putin
Vladimir Putin paid a visit to the RT newsroom for an extensive Q&A session exclusively with our reporters. Virtually no topic went undiscussed.
July 2013: Bolivian President Evo Morales
Evo Morales' interview with RT Spanish really piqued interest in the West. After telling us that Bolivia would consider Edward Snowden's asylum request, the president's plane was grounded in Austria. Local authorities suspected the Bolivian leader of sneaking the whistleblower aboard.
April 2015: Argentina's President Cristina Fernandez de Kirchner
With a longstanding friendship between Russia and Argentina, RT became the first foreign channel that Madam President had spoken to in half a decade.
September 2015: WikiLeaks founder Julian Assange
Julian Assange is a familiar face on RT. In fact, his World Tomorrow show contributed to some of RT's headline-grabbing interviews. Assange's take on "US Empire" was not the first time we'd heard from the controversial Australian, but this chat became one of our most popular.