Obama talks to Putin in Paris, expresses regret over downed Su-24 jet in Syria - Kremlin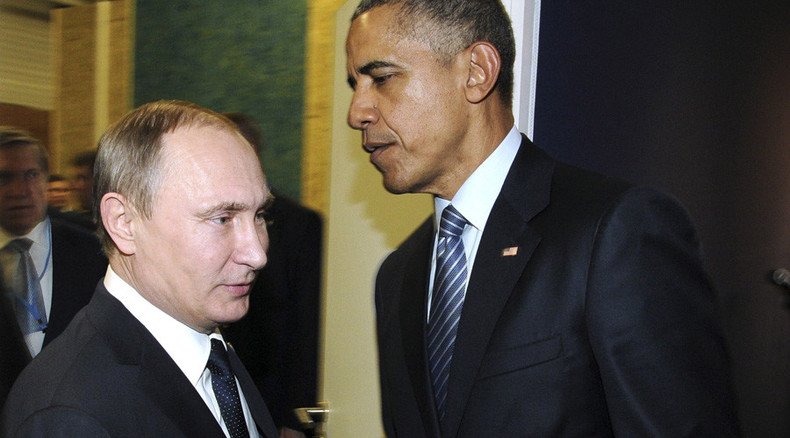 Russian President Vladimir Putin and US President Barack Obama met on the sidelines of the climate summit in Paris on Monday. The presidents discussed a number of issues, including the Syrian crisis and the situation in Ukraine.
The talks were "eventful" and lasted for some 30 minutes, Kremlin spokesman Dmitry Peskov told journalists.
"Obama expressed regret over the incident with the Russian plane which was downed by the Turkish air force in Syria," Peskov said, adding that the Russian and US leaders discussed the situation in Syria in detail.
READ MORE: Putin: Downing of Russian jet over Syria stab in the back by terrorist accomplices
Both Putin and Obama spoke in favor of the movement towards a political settlement of the Syrian crisis, the Kremlin spokesman said.
Meanwhile, the US president once again expressed his stance on the position of Syrian President Bashar Assad, saying that the Syrian leader must leave power as part of a political transition, Reuters reported, citing a White House official.
A diplomatic solution to the situation in southeastern Ukraine was also discussed at the meeting. The quick and full implementation of the Minsk agreements was emphasized, Peskov said. According to a White House source, cited by Reuters, Obama mentioned that sanctions against Russia could be rolled back when the accord is honored.
Monday's meeting of the two leaders in the French capital was the second time Putin and Obama have talked in the past two weeks. Earlier in November, after a long break, the presidents had a tete-a-tete at the G20 summit in Turkey, where they also discussed the conflicts in Syria and Ukraine.
Putin has also held meetings with a number of other world leaders on the sidelines of the Paris conference. The Russian president held a three-sided discussion with German Chancellor Angela Merkel and the head of the European Commission Jean-Claude Juncker. Putin also talked to Israeli Prime Minister Benjamin Netanyahu, who highlighted the successful coordination of the two countries' military action in regard to the Syrian crisis, saying that the recent tragic events have served to emphasize the importance of such joint work.
You can share this story on social media: