Turkish officers arrested for 'treason' after intercepting weapons destined for Syria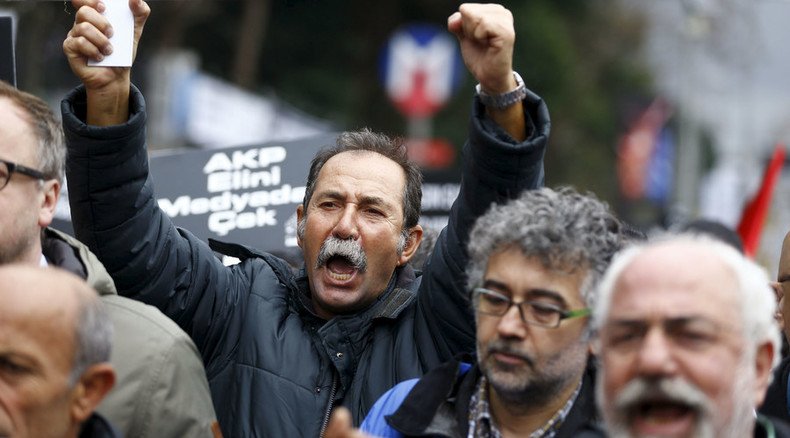 Three Turkish officers, involved in the inspection of an intelligence agency's weapons-filled trucks, allegedly destined for Syrian terror groups, have been arrested on treason and espionage charges. Meanwhile journalists who broke the news face similar charges.
On Saturday, police detained Ankara Gendarmerie Regional Commander Major General Ibrahim Aydin, former Adana Gendarmerie Regional Commander Brigadier General Hamza Celepoglu and former Gendarmerie Criminal Laboratory Head Colonel Burhanettin Cihangiroglu. An Istanbul court ruled in favor of their arrest shortly after midnight, in the early hours of Monday morning, according to local media.
READ MORE: 'Oxygen for jihadists': ISIS-smuggled oil flows through Turkey to intl markets – Iraqi MP
Security officials are facing "spying" charges over an incident in January 2014, when Gendarmerie intercepted trucks belonging to Turkey's National Intelligence Organization (MIT).
An inspection of the trucks exposed large quantities of munitions being transported to Syria. After opening a metal container bearing a 'FRAGILE' mark, the inspectors found munitions hidden in crates under boxes of medicine.
The information caught public attention in May 2015, when the website of the Cumhuriyet media outlet posted footage of MIT trucks being inspected by security officers. The paper reported that altogether, in that particular run, MIT trucks had been carrying over 80,000 rounds of ammunition of different calibers, some 1,000 mortar shells and hundreds of munitions for grenade launchers.
The arrests of Gendarmerie officers comes shortly after a court in Istanbul demanded the arrest of two Cumhuriyet journalists for exposing contacts between Turkish intelligence and Syrian terror groups.
On Thursday a Turkish prosecutor requested the arrest of the editor-in-chief of Cumhuriyet newspaper, Can Dundar, and Cumhuriyet's representative in Ankara, Erdem Gul, charging them with espionage and treason over a report published back in May that revealed that Turkish weapons were being transferred to Syria by Turkey's intelligence agency. The journalists are now facing up to 45 years in prison.
Those who sent the convoy from Turkey knew that the weapons were "heading to end [up] in ISIS hands," one of the Cumhuriyet journalists told RT.
Turkish officials made contradictory statements after the paper first blew the whistle, initially saying that the arms then denying the delivery altogether, and then saying the "aid was destined for the Turkmen."
According to Damascus, Ankara has increased weapon, ammunition and equipment shipments to the terrorist groups operating in Syria in exchange for oil and antiquities looted by Islamic State terrorists.
"Turkey helps terrorists due to ideological reasons, thinking that these terrorist groups are successors to the Ottoman Empire," said Syrian Foreign Minister Walid Muallem while visiting Moscow. "Turkey provides terrorists with weapons, logistical support, medical care and even shelter."
LISTEN MORE:
You can share this story on social media: