'That terrorist is not your Prince Charming!': Cosmo warns Russian women against ISIS temptation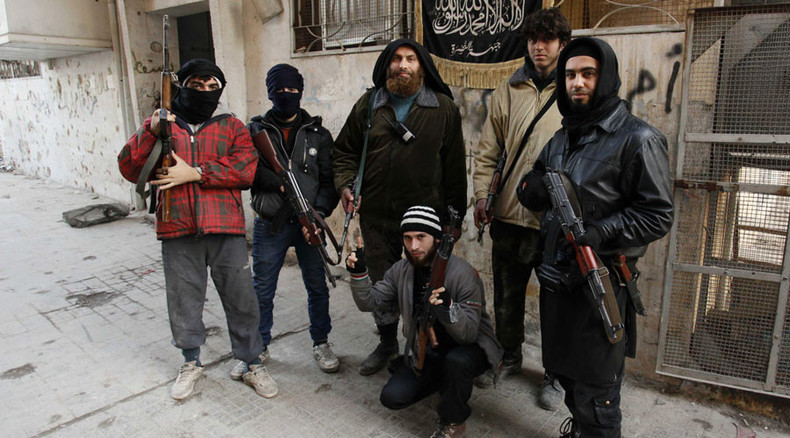 Russia's edition of women's lifestyle magazine Cosmopolitan has published a handy guide for avoiding recruitment by Islamic State agents, following the high-profile case of a young Russian woman who ran away to join the jihad in Syria and Iraq.
"A woman who is lonely or dissatisfied in her personal relationship is the ideal candidate for recruitment," says the article, arranged in a helpful question and answer format. "All of a sudden fate will bring… a Prince Charming, a rock, a man with whom you can build a solid and happy future. This is not how it will actually work out."
The article, evidently compiled from the anonymous testimonies of those who have been contacted by Islamic State recruiters, said that encounters begin innocently enough, with a handsome stranger contacting the recruit on a social network.
At this point the jihadist may not reveal his occupation, but will gradually foster trust with his target, finding out as much as he can, so that he can have the key to her personality. Once the relationship becomes intimate, the recruiter will sell a "tailor-made dream" that will reel in the victim.
"For some, he will be a brave but weary warrior, fighting evil, who needs a mate by his side … others will be part of "sexual jihad," comforting multiple warriors, and giving birth to their children, who will be inducted into the ways of Islam… If sexual relations with masculine, bearded specimens are not your thing, you may be offered to volunteer in "charitable" missions, helping to right the world's wrongs."
Using techniques not dissimilar to those of pick-up artists, the recruiters will often disappear for periods of time, making the victim feel even more dependent on them. Relatives are painted as hostile and unempathetic. Any questions will be answered with the "black-and-white certainty of radical Islam, which divides the world into good and evil, and makes it easy to tell them apart."
Even as the women prepare to travel to the Middle East, they are told that they can quit at any time. However, things are rarely as simple, once you are in Syria.
"With 260 million Russian speakers around the world, a Russian woman is a valuable asset. If she is lucky, she can herself become a recruiter. If not, sexual jihad awaits… With as many as 30 'pleasure husbands' to service each month, sexual jihad soon turns into sexual slavery."
Russia was shocked when Varvara Karaulova, a baptized straight-A student at Russia's most prestigious university, was detained in Turkey in June, trying to join her beloved in the IS ranks. An investigation of her recruiter alone, has shown that he managed to persuade at least 11 other women to support the cause, although most had not ventured to the Middle East.
There have been reports of other women disappearing, with rumors they had embarked upon jihad, though these are often difficult to verify. Overall estimates of the number of Russian citizens on the side of the Islamists have varied. Last month, the interior ministry said the number currently stands at about 2,500, with thousands more Russian speakers from the former Soviet Union.
With up to 20 million Muslims living in Russia – far more than any other European country – most recruits have been lifelong believers from Chechnya and Dagestan, as opposed to ethnic Russian converts.