Dozens in Greece, Bulgaria denounce Turkey & NATO in solidarity marches with Russia (VIDEOS)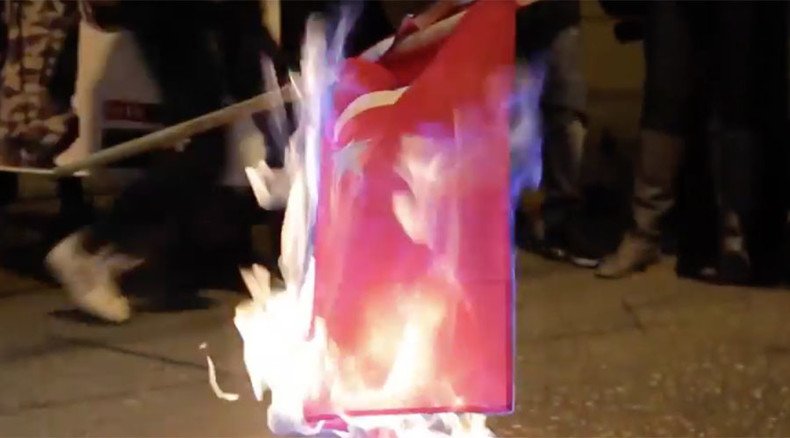 Turkey's two neighbors and historical adversaries Greece and Bulgaria have witnessed sporadic protests denouncing Ankara's remorseless in the shooting down of the Russian Su-24 plane, as well as NATO warmongering in general.
Several dozen activists protested in Athens' Syntagma square and marched to the Turkish embassy, where they staged a symbolic burning of American and Turkish flags. Additional police were deployed to guard the embassy as protesters voiced anger over the Sukhoi Su-24 jet downing by Ankara's F-16 for allegedly entering Turkish airspace.
"This action of Turkey was totally unacceptable, a clear act of war, no unjustified action, an action which causes wider dangers in the area," said Panagiotis Lafazanis, leader of fringe left-wing party Popular Unity.
"We want peace in the region, both in Greece and in Turkey, also in Kurdistan, in Syria and in Ukraine. [We want] peace and also the right to the peoples to determine their fate, without interventions from outside," said Andreas Zafiris, representing the 'Save Syria from NATO' and 'Save Donbass' organizations.
Marching further with a banner reading "Turkey and NATO are the same, when helping ISIS", activists made a stop in front of the Greek Parliament, as well as at EU offices on Amalia Avenue.
"They ignore that the Russian airplane has dropped its bombs on the terrorists of the nearby Islamic State which threatens the whole world with terrorist attacks," said Dr. Panagiotis Xanthopoulos, from the Panhellenic Union of Pontian Scientists.
In the Bulgarian of capital Sofia, a crowd shared the same sentiment as in Greece. Activists from the opposition nationalist Ataka party rallied outside the Turkish embassy in solidarity with Russia over tensions with Ankara.
One protester carried a banner bearing a picture of Russian President Vladimir Putin with the slogan "We have not forgotten, we will revenge," apparently referencing to Russia's role in helping Bulgaria achieve independence from Turkey following the Russo-Turkish War (1877–1878).
Banners reading "Friends of Russia and Orthodox world" and "Occupiers NATO and USA, out of Bulgaria!" were also seen among the crowd.
During the protest Ataka party leader Volen Siderov praised the Russian operation in Syrian skies and accused the US of being incapable of dealing with Islamic State effectively.
"We are under a situation in which Russia is fighting against terrorism. And effectively. For two months, the Russian army has done everything that the Americans, French and German people and others couldn't do for a year and a half," Siderov stated. "And what does it mean? It means that Russia became a geopolitical player and Americans can't cope with that."
You can share this story on social media: