Putin: Turkey deliberately leading relations with Russia 'into a gridlock'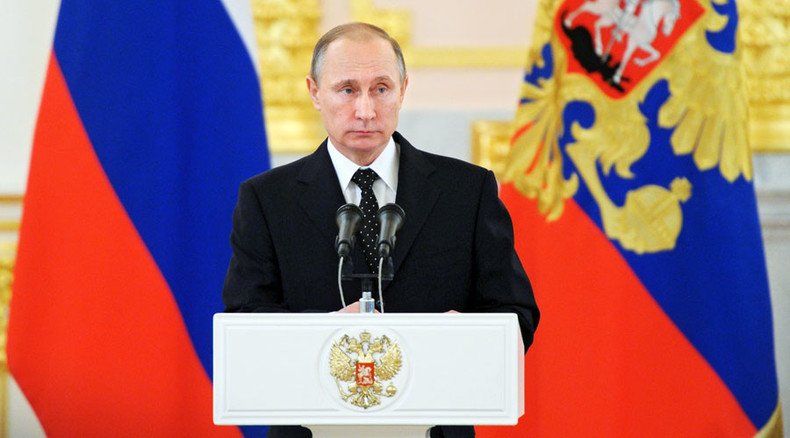 Russian President Vladimir Putin has accused Turkey of intentionally bringing relations with Russia into a 'gridlock' following the incident with the downed Russian bomber in Syria.
The Turkish government has made no steps towards clearing up the situation with Russia after the Tuesday incident at the Syrian-Turkish border. The country has neither offered any compensation nor expressed any apologies over the death of the Russian pilot, thus apparently deliberately dampening relations with Moscow, Putin stressed in his speech at the presentation of foreign ambassadors' letters of credence in the Kremlin on Thursday.
"We have still not heard any comprehensible apologies from the Turkish political leaders or any offers to compensate for the damage caused or promises to punish the criminals for their crime," Russian president said.
"One gets the impression that the Turkish leaders are deliberately leading Russian-Turkish relations into a gridlock – and we are sorry to see this," he added.
Vladimir Putin also emphasized that Turkey's air forces hitting the Russian plane contradicted "common sense and international law [as] the plane was shot down over Syrian territory" and once again called the incident "a stab in the back."
"I have to say that we find absolutely inexplicable the treacherous stabs in our back dealt by those we thought to be our partners and allies in the anti-terrorist struggle," he said referring to the downing of the Russian bomber by a Turkish fighter jet.
At the same time, the Russian president expressed hope that a broad coalition could still be formed in order to counter the terrorist threat.
"I expect a truly broad international anti-terrorist coalition to be formed that would act in a coordinated fashion, as a powerful force and would, in particular, support the actions of the Russian troops that are carrying out successful military operations against terrorist groups in Syria," Putin said in his speech.
Meanwhile, Turkish President Recep Tayyip Erdogan said that his country would not apologize for downing the Russian bomber.
"I think if there is a party that needs to apologize, it is not us," he told CNN in an interview stressing that "those, who violated our airspace, are the ones who need to apologize" apparently referring to Russia.
"Our pilots and our armed forces, they simply fulfilled their duties, which consisted of responding to ... violations of the rules of engagement. I think this is the essence," Erdogan added emphasizing that Turkey acted in line with its sovereign right to counter the threats to its security.
Turkish Foreign Minister Mevlut Cavusoglu also denied any possibility of an apology to Moscow during his visit to Nicosia, Cyprus.
"We don't need to apologize on an occasion in which we are right," he told journalists, although he claimed that Turkish authorities "said on the phone that [they] are sorry" referring to a telephone conversation with Russian Foreign Minister Sergey Lavrov on Wednesday.
Earlier on Thursday, Turkey's president said his country would continue to open fire on foreign planes violating its airspace.
"If another violation of our aerial border happens, we can respond in the same way," he said. "The plane was shot down within the rules of engagement announced earlier."
In the meantime, Russian Foreign Ministry spokeswoman, Maria Zakharova, accused Turkey of protecting the "armed thugs" that killed the Russian pilot during a news briefing.
"These people Ankara seeks to protect at every possible way including illegal means have nothing to do with civilians. They are armed thugs that shot down Russian pilot and then desecrated his body," Zakharova said.
READ MORE: Hell has special place for murderers of downed pilots

The ministry's spokeswoman also criticized NATO for not offering its condolences to Russia over the death of the pilot as well as for its attempts to put the blame for the incident on Russia and called it a "shame."
She added that NATO apparently "pardoned" Turkey's actions despite them threatening international security.
Zakharova also stressed that Turkey "clearly" is a terrorist accomplice as it downed a plane conducting an anti-terrorist combat mission.
"If someone hit those conducting an operation against terrorists, how can the actions of this side be described otherwise than as actions of terrorist accomplices? – Clearly, there is no other option here," she said during the briefing.
On Wednesday, Russian Prime Minister Dmitry Medvedev also called the actions of Turkey "de facto protection of Islamic State."
On Tuesday, a Turkish F-16 fighter jet downed a Russian bomber conducting air strikes against terrorists in Syria. Ankara claims that the Russian Su-24M combat aircraft crossed the border and remained in Turkish airspace for 17 seconds having being previously warned not to approach 10 times.
Russia denies any violations. It also rejects Turkey's claims that its military repeatedly warned the pilots of the Russian jet before attacking it.
You can share this story on social media: