Terrorists in Su-24 search operation area killed - Russian Defense Ministry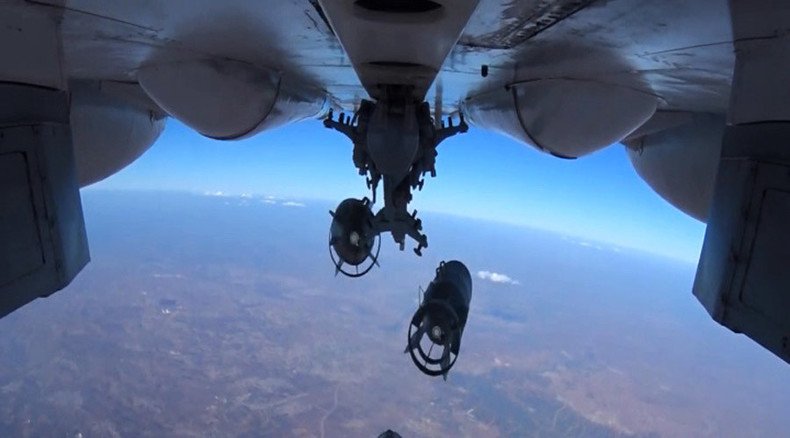 Russian and Syrian military have killed terrorists in the search area of the downed Russian Su-24 jet, the Russian Defense Ministry said on Thursday.
"The moment our pilot was in safety the area was heavily bombed by the Russian Air Force and shelled by Syrian government forces artillery," ministry spokesman General-Major Igor Konashenkov told a media briefing.
He stressed that terrorists and other "mysterious groups" were killed in the assault.
Konashenkov also added that the Turkish General Staff had denied Russia access to any materials related to the downing of the Russian Su-24 jet by a Turkish F-16 on Tuesday, adding that they did not release any recording of the radio communications between the pilots.
"In this case this is just more proof that the audio recording of communication between the Turkish pilots and our crew published by several media outlets is a regular fake."
The Defense Ministry has said that all channels of military cooperation with Turkey were suspended on Thursday, including a hotline set up to share information about Russian air strikes in Syria. Moscow has also recalled its military representative from Turkey.
"Today, in accordance with the decision taken earlier, all channels of cooperation between the Russian Defense Ministry and the armed forces of Turkey were suspended," said Konashenkov.
The Russian Air Force base in Latakia has been reinforced with an S-400 SAM system, which was deployed on Thursday.
"Now we are going to ensure the safety of our planes fighting against ISIS militants and other terror groups by taking more reliable measures," Konashenkov said.
The Russian Air Force has conducted 134 sorties in the past three days hitting 449 targets in the Syrian provinces of Aleppo, Damascus, Idlib, Latakia, Hama, Homs, Raqqa and Deir ez-Zor, according to the spokesman.
All planes have safely returned to base.
As a result of multiple air strikes conducted by Russian forces against terrorists, Syrian governmental forces took control of the mountainous regions in the north of Latakia province, thus fully blocking the cross-border arms and ammunition shipments to terrorists in the area, Konashenkov said during the briefing.
He also stressed that in other regions in northern Syria, Russian air forces have been keeping all Islamic State weapons, ammo and equipment supply routes in check.
Konashenkov said that that reports distributed by foreign media about Russian air forces allegedly hitting a Turkish 'humanitarian convoy' near the Bab al-Salam border crossing in northern Syria were "misinformation."
Russian aviation is continuing to carry out air strikes against oil-refining infrastructure controlled by Islamic State militants. On November 24, Russian SU-34 bombers hit Islamic State convoys of oil trucks as well as oil refineries and oil storage facilities in the eastern Syrian provinces of Raqqa and Deir ez-Zor.
You can share this story on social media: