Presidential sweet: St. Petersburg to showcase full-size Putin statue made entirely of chocolate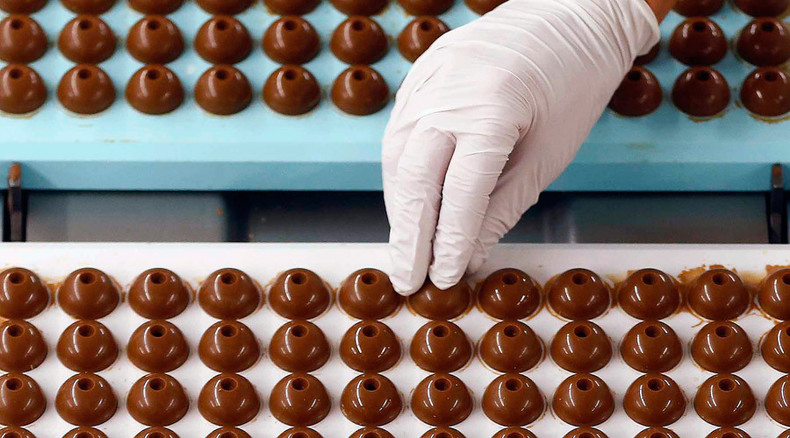 A chocolate statue of the Russian president, set to be showcased as part of a festival dedicated to the sweet treat in St. Petersburg, will also apparently vie for a Guinness World Record.
One of the organizers, Mikhail Lubchenkov, told AB News the effort has nothing to do with politics, they merely decided to create the sculpture because of Vladimir Putin's popularity.
"We researched open data and found out that our president weighs around 70kg and is 170cm tall. Our statue already weighs 77kg and is 172cm in height… As far as we know there hasn't been a statue of a secular leader made out of chocolate this size in the world. So we are preparing an application to the Guinness World Records."
According to Lobchenkov, chocolate Putin will be showing a 'thumbs up' sign while grinning and there may even be a dog by his side. A chocolate Labrador, we suspect.
This is the fifth annual Chocolate Fair to be held in St. Petersburg, and one of the largest of its kind in Russia.
AB News published a photo (link) in its article in which an artist, strongly resembling famous French Chocolate artist and sculptor Patrick Roger, is busy working on a chocolate Putin. However there is no information on which sculptor will be working on the statue for the St. Petersburg Fair.
They feel weird, taste good and look like someone you know, or at least have seen on the news - life size chocolate sculptures are a safe bet in order to get the crowd's attention. Just this April, UKTV commissioned an artist to create a huma- sized chocolate statue of actor Benedict Cumberbatch, called him 'Chocobatch'.
Last year, Pope Francis was presented with a full-size chocolate version of himself by the students of the Accademia of Maestri Cioccolatieri.
READ MORE: Yummy and healthy? Study finds chocolate lowers risk of heart disease, strokes