Football-field-sized sinkhole devours Australian beach, may grow even bigger (PHOTO)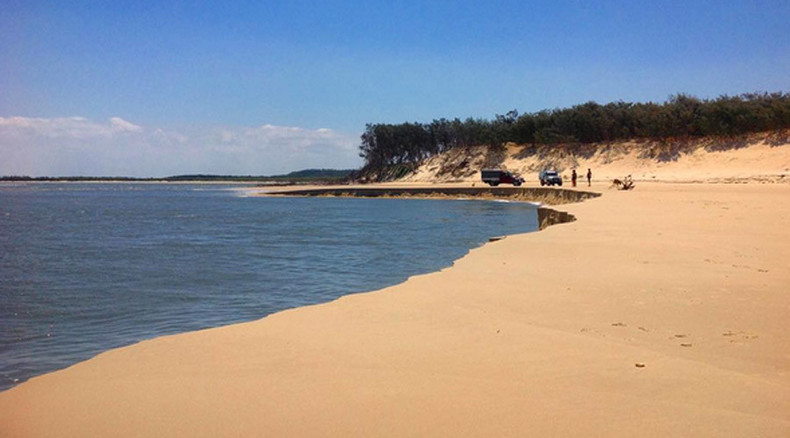 A gigantic sinkhole has carved out an impressive chunk out of an island in southeast Queensland, Australia. The monstrosity that swallowed part of the beach is the size of a football field. Life-savers have warned people to stay away.
A spokeswoman for Surf Life Saving Queensland told AP the gaping hole on North Stradbroke Island is 100 meters wide and opened up at some point on Wednesday. It's a long way from any areas patrolled by life guards.
"There are really strong currents in the water and the sand is quite unstable," the spokeswoman said.
Senior lifeguard Michael Bates told ABC the hole is "a little bit smaller than a football field," but experts think it may grow even further.
The spot at Jumpinpin bar, on the north of the island, is popular with fishermen and four-wheel-drive enthusiasts, but no one was there on Wednesday.
"It is almost like a swirling effect in the water that is created by the change of tides and there is unstable sand in the area," Bates continued. "It is not a safe area for swimming at all, due to it being so unstable, unpredictable and varying depth and the strong water movement. It is going to make it a very massive hazard."
North Straddie now believed to be affected by significant coastal erosion from strong tidal changes, after consultation with land managers.

— Surf Life Saving QLD (@lifesavingqld) November 26, 2015
Despite the scare, researcher Konrad Beinssen of the University of Queensland says sinkholes are actually quite common at Jumpinpin. Beinssen, who wrote a research paper on another sinkhole in September, says the conditions are just right here.
The sinkholes "occur when an underwater sand cliff retrogresses backwards and sometimes it reaches the shore and collapses the beach," he said.