HRW & Amnesty condemn Saudi airstrike on Yemeni factory with UK-made missile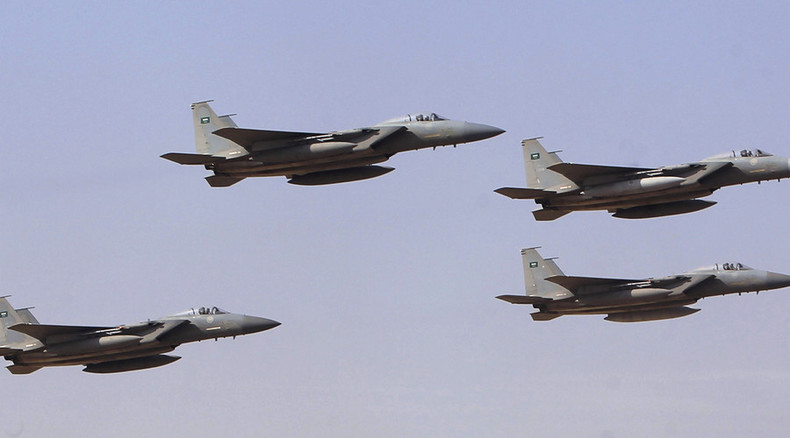 The Saudi-led coalition is violating international humanitarian law by striking civilian targets in Yemen using UK-made missiles, two of the world's most respected human rights agencies stated, urging London to pressure Saudi Arabia into opening a "credible investigation."
An investigation by Amnesty International (AI) and Human Rights Watch (HRW) into an attack on a Yemeni ceramics factory on September 23 discovered debris from UK-made PGM-500 Hakim missiles. The Marconi Dynamics-manufactured projectile fragments were found amid the rubble of an apparently civilian production facility.
"The attack on the factory in the Sanaa governorate, which appeared to be producing only civilian goods, killed one person, and was in apparent violation of international humanitarian law (IHL), the laws of war," HRW and Amnesty said in a statement.

Furthermore NGOs said that evidence of a UK-made missile found on site contradicted UK claims that any use of British weapons by the Saudi-led coalition was done lawfully.
"The UK Foreign Secretary Philip Hammond claims he favors 'proper investigations' into possible breaches of the laws of war in Yemen. This strike provides a perfect test case – the UK should urgently press the Saudi Arabia-led coalition to open a credible investigation into this strike, as well as others that appear to have violated the laws of war," said Lama Fakih, senior crisis advisor at Amnesty International.

The NGOs say that London failed to investigate "well documented" cases of strikes on civilian targets in Yemen, to see if weapons supplied to Saudi Arabia in the 1990s, were in fact left out of the conflict that escalated in March.
"The latest revelations show UK policy to be both misleading and seriously ineffective," said David Mepham, UK director at Human Rights Watch.
The NGOs urged the UK to suspend further sales of aerial munitions that have been used in an "unlawful air strike." Human rights organizations consider the UK to be acting in potential violation of the Arms Trade Treaty (ATT) that entered into force last year with the aim of regulating the international trade in conventional weapons.
Under Article VI, a country cannot sell weapons if it has knowledge that the arms supplied will be used in "attacks directed against civilian objects or civilians protected."
"It's completely unacceptable to wait for civilian casualties to pile up before acknowledging the risk, that's simply not how arms controls are meant to work," said Kate Allen, Amnesty UK Director.
Both HRW and AI claim that PGM-500 Hakim missiles were also used on November 4 or 5 in Sahar in Sa'da region in northern Yemen. The missiles were apparently found in an open field.
PGM-500, according to the NGOs, are in service with the United Arab Emirates (UAE) Air Force, and are being used on board French-made Mirage 2000s and US-made F-16F jets.
"This was depressingly predictable. Amnesty has repeatedly warned that UK-made weapons were likely to end up causing civilian casualties in Yemen, but those warnings have been recklessly ignored and civilians have paid the price for that complacency," said Allen.
The NGOs estimate that over 2,000 civilians have been killed since the Saudi Arabian coalition began an aerial assault on its neighbor on March 26.
You can share this story on social media: