Suffering too real in Syria, E. Ukraine, you learn to value compassion – RT's Roman Kosarev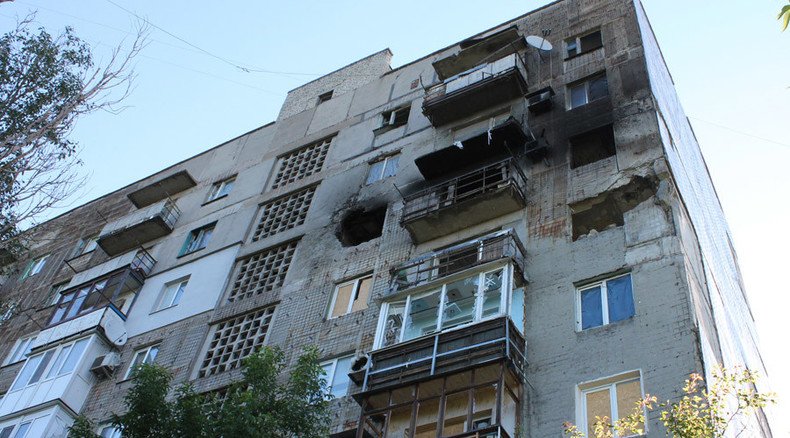 RT reporter Roman Kosarev, who was recently caught in shelling in Syria, says the atrocities he has seen at hotspots such as Syria and Eastern Ukraine have at times rendered him speechless, but this is also where unprecedented compassion can be found.
We live in scary times. War, death, destruction, tears, hunger, refugees, indifference, carelessness, the glorification of the heinous and vulgar, the disregard of basic human values, dividing the world into those who are 'right' and those who are 'wrong', and so on.
These are not just words that come to mind after reading headlines from around the globe. I know from experience what cruelty looks like and where deliberate blindness towards others and their opinions may lead a person. I have also seen how miserable masses are manipulated through fake ideals and promises of pseudo-freedom.
I was reporting on the terrible killings of civilians in eastern Ukraine for about a year and a half. Now I am doing the same in Syria, but I want to talk about Donbass, where the overwhelming majority speak Russian and where you always feel a bit surreal – you are in a different country, but everything around seems so familiar.
These are real people and it is real death. Thousands of innocent people have died. Children and adults have lost their lives in the most barbaric way. These were boys playing soccer on the school field – they got blown into pieces by mortar fire. Or an elderly couple who were putting meat on the grill and got killed in an instant by a shell that hit their house. These are many people who lost their children or parents because of this undeclared war and now have to live with this nightmare for the rest of their lives.
These are all known facts, but what many people don't know is that in the midst of this daily hell, human kindness and the unwavering will to live in peace prevail. Not every Russian family has been affected by the horrors of war. Most people know about it from daily news programs - they think of it as something that is only possible somewhere far-far away, not in their own world. But it doesn't mean that they are indifferent towards the suffering of the people. We'll come back to this later.
People often ask me if I was able to stay sane after covering violence practically every day. I felt horrible, it was extremely painful, but I couldn't give in to my emotions, as I had a job to do. I let my guard down later, when I was with family and friends. It is very difficult to see children's bodies blown into pieces and neighbors who cannot fathom the situation, as just five minutes ago they were grumbling at the kids for being too loud or simply discussing their plans.
Wailing and cursing into nowhere, but also aiming quite specifically – "Why? Have you seen soldiers here? God damn you!!! My girl! My boy! Mom! Dad! Wake up!"

The shock from what I saw lasted shorter with every new shell-ridden district I visited. Tears would dry up in several minutes when I took the mic and tried to show how low humans can fall once they lose their moral values. It may well be that these scatterbrained gunners were not aware of their actual targets, but what could have been on the mind of a soldier who shot dead at point blank range an 18-year-old pregnant girl with her hands tied behind her back? What substance was he under the influence of when he buried her together with other victims near his base?
I hope these questions will be put to all the puppeteers when they are brought to justice. Hopefully, the people of the Donetsk and Lugansk regions, whose relatives were killed by these savages, will have a chance to look at the faces of those people placed behind bars and experience at least some closure and the feeling that justice has prevailed. Unfortunately, the sufferings of the victims' families will not end there; they will mourn their relatives and friends and recall the horrors of war even after they have rebuilt their towns and villages.
Back to the triumph of good over evil; it's the belief in humanity that has kept me sane throughout my missions. It's you, the people of the multi-ethnic country of Russia who have helped the unfortunate — as you've always done before, you inspire the people who are just like you but whose lives were crippled by war. You donate your savings and time to offer at least some relief — I know this for sure because I delivered your humanitarian aid. You also helped the refugees to find jobs so that they could start a new life far away from their own home, now lying in ruins.
As we all remember from childhood, good always prevails over evil. That's how it's going to be in the end. But, unfortunately, we are not in a fairytale and the path to victory is sometimes littered with casualties.
LISTEN MORE:
You can share this story on social media: