NATO fails to show unanimity on Turkey's shooting of Russian bomber - reports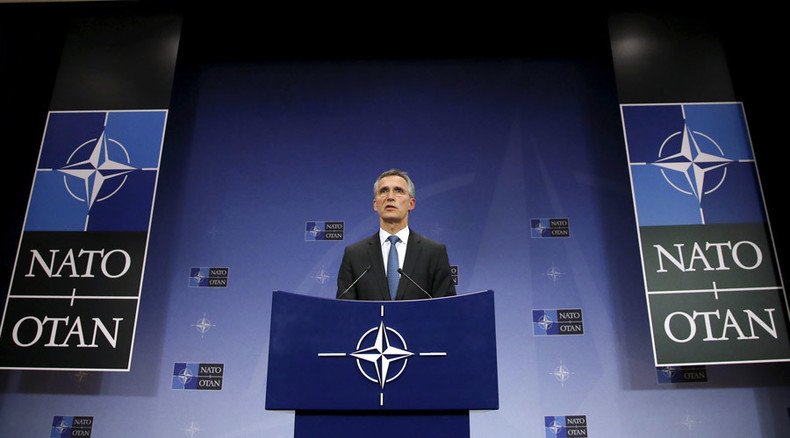 NATO members failed to come out with a unified show of support to Turkey following an emergency meeting it called on Tuesday. There were also serious concerns about Turkish conduct and discord about the crash location, sources say.
LIVE UPDATES: Russian warplane shot down at Syria-Turkey border
Despite formal solidarity expressed by Secretary-General Jens Stoltenberg in a brief low-key statement after the emergency meeting of NATO's North Atlantic Council (NAC) called upon Turkey's request over downing of the Russian jet bomber, there were signs of disagreement between some NATO
Stoltenberg said he certainly believes the solution could only come in "further contacts between Ankara and Moscow and […] calm and de-escalation," having stressed NATO will rely solely on "diplomacy and de-escalation" rather than other options.
READ MORE: Putin: Downing of Russian jet over Syria stab in the back by terrorist accomplices
On Wednesday, Russian Foreign Minister Sergey Lavrov told a press conference: "We also know the statement made by the [NATO] secretary general was not agreed by all [NATO members]. He, so to say, took responsibility and listened to leading NATO members."
Lavrov added "there were quite unpleasant assessments of Turkey for [its] attack on the Russian warplane, but well-known allied solidarity has prevailed."
"There were serious disagreements during the discussion of the Su-24 incident at the meeting. Some envoys were very cautious and reserved about Turkish complaints," the source close to NATO also told RIA Novosti.
Alliance's diplomats who took part in NAC's meeting also told Reuters on Tuesday that while none of the 28 NATO envoys explicitly supported Russia, many expressed concerns that Turkey did not escort the Russian combat jet out of its airspace.
"There are other ways of dealing with these kinds of incidents," said one diplomat who declined to be named, according to Reuters.
Some envoys have questioned Turkish accusations that Russian jet violated Turkey's airspace after "repeated warnings" before ordering F-16s to attack, as Turkey had failed to present reliable evidence. The aircraft crashed on Syrian territory and several NATO members were "confident it was shot down over Syria," according to RIA Novosti's source.
Earlier on Tuesday, an unnamed US official told Reuters the United States believes that the Russian jet shot down by Turkey was hit inside Syrian airspace, saying this assessment was based "on detection of the heat signature of the jet."
While NATO did not specifically endorse the Turkish attack on Russian plane – the first to be shot down by a NATO member since the Cold War – it raised fears among the alliance that Russia may retaliate proportionately.
"If that happened we would quickly be sucked into a spiral of reaction and counter-reaction," a British military official told Voice of America, speaking on condition of anonymity as he was not authorized to talk to the media.
READ MORE: Downed in 17 seconds? Where Turkey's story of Su-24 violating airspace just does not add up
The Russian Su-24 bomber was shot down by Turkish F-16 jets near the Turkish-Syrian border. Turkey claimed that the plane violated Turkish airspace and did not respond to repeated warnings. Ankara said it was rightfully acting to defend its sovereignty. Russia maintains the plane had stayed entirely within Syrian airspace. One of the two pilots of the downed Russian warplane was reportedly killed by a rebel group as he parachuted to the ground after ejecting from the plane. The second airman was rescued in a 12-hour recovery operation and taken to the Russian base in Latakia. One of the marines who took part in the op was also killed.
LISTEN MORE:
You can share this story on social media: